In the recipes of any mother or grandmother, you can not miss a good beef stew. A homemade recipe of meat that is the star recipe of any family meal.
Beef stew requires a lot of time and patience, since it must be simmered so that the flavors, textures and smells are mixed. You can serve your beef stew with the garnish that you prefer. In this case we will accompany the meat with a mashed potato, and we will cook it with carrots and shallots dipped in Port wine
Ingredients
500 g casserole beef
15 g plain flour
30-45 ml extra virgin olive oil
10 shallots, peeled and whole
2 carrots, peeled and sliced
200 ml Port wine
200 ml water or beef stock
1-2 sprigs of fresh thyme
Salt
Black pepper
Method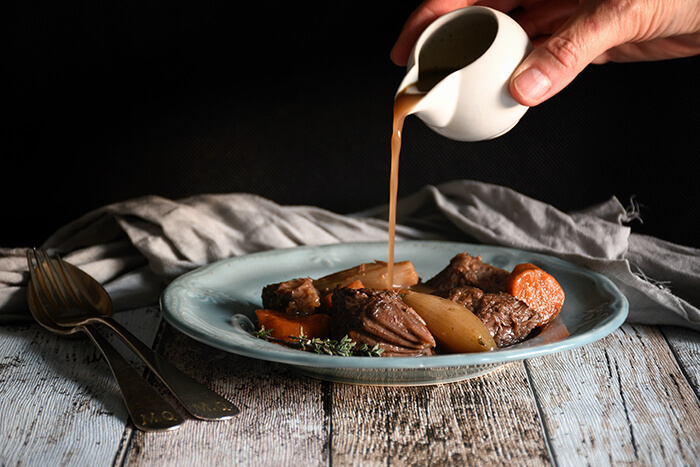 Dust the meat in the flour, shaking off any excess.Heat the oil in a large casserole pan and brown the meat in batches over a high heat. Remove with a
slotted spoon and set aside.
Reduce the heat and add the shallots and carrots. Cook for a 2-3 of minutes before returning the beef to
the pan.
Add the Port wine and cook uncovered on a high heat for a few minutes until the alcohol has evaporated
Add the water or stock, the thyme and salt and pepper to taste.
Cover the casserole pan with the lid and simmer for a couple of hours on a very low heat or until the beef
has turned soft and tender.
Let sit for a few hours or, even better, until the following day. Serve with mashed potato for a complete
meal.