The success of the Poke Bowl is based on its simplicity and the infinity of ingredients that can be seasoned. Its taste can be considered as an evolution of sushi, but it is served in the form of a Hawaiian salad. Poke means 'cut' in Hawaiian and refers to the pieces of protein that make it up. It is usually made with raw fish, usually tuna, which is placed on rice and complemented with fruit, raw vegetables and sauces. With the evolution of vegan and vegetarian food, alternatives have arisen to the original recipe of the Poke Bowl, where the animal protein is replaced by another vegetable such as tofu or marinated fruit.
Today we show you a very summery and vegan Poke Bowl recipe made with Watermelon Tuna macerated in Soy Sauce. A very refreshing and original recipe that will surprise you. Take note!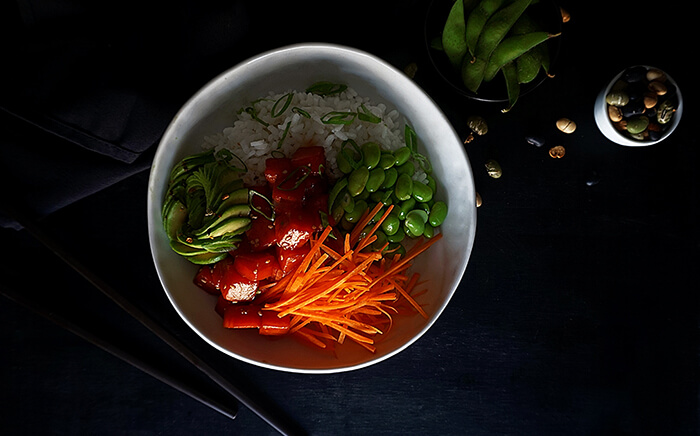 Ingredients
Rice
200g White rice
3 TBSP of rice vinegar
1 TBSP of Agave syrup
Watermelon tuna
200g Seedless watermelon
2 TBSP soy sauce
1 TBSP sesame oil
1 tsp of raw nori flakes
1 tsp of chili flakes
Toppings
100g Edamame
1 Carrot
1 Avocado
1 Green onion
Black and white sesame seeds
Directions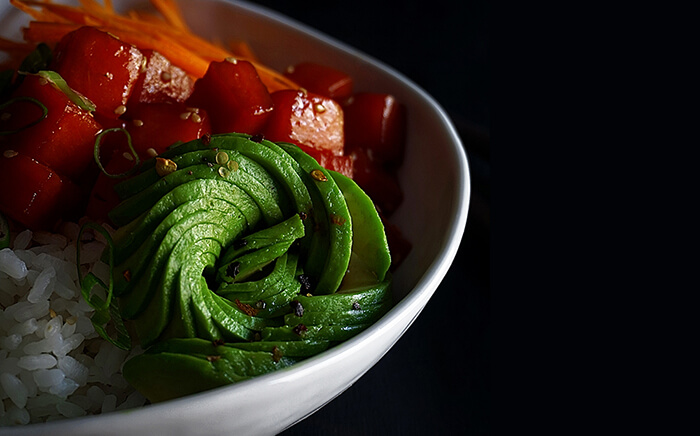 For veggie tuna, dice the watermelon and smash all the ingredients for the sauce. Marinate all night (or at least two hours).
Cook rice in water. Check it is cooked and drain immediately. Wash with cold water and set aside.
Blanch edamame, slice carrot and avocado and cut green onions in thicker slices.
Season rice with vinegar and agave syrup, add salt to taste, mix well and place it in a bowl.
Sprinkle toppings over the rice and leave enough room for watermelon tuna. After several hours, watermelon would have extra juice so drain it and place the liquid in a saucepan. Cook over low heat until the liquid has reduced. You will have a thick sauce. Combine again with the watermelon and add some white sesame seeds.
Place the watermelon in the bowl to finish your poke recipe. You can also add other toppings like cucumber, radish, Sriracha mayonnaise or wakame seaweed.