Teka's new sinks range of Radio 15, the widest offer in the market, both in design and in features. With these products of enormous complexity that demand the maximum technology, the company becomes the only manufacturer in the world capable of making a sink of these characteristics in a single process.
New sinks are more efficient and easier to clean.
Teka is the only company in the market that offers the maximum guarantee in the entire range: 75 years.
Among the new models, highlights the line Zenit, a new concept of sink that has a workspace to prepare meals thanks to its accessories.
Radio 15 is the angle with which the new sinks range are designed, characterized by much more vivid edges, the verticality of its bucket and the quality of the materials. They emphasize the straight, defined and elegant lines that contribute greater personality and design in the kitchen.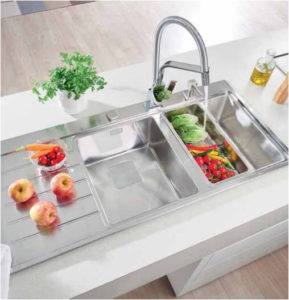 The sinks Radio 15 are more efficient, facilitate the cleaning and evacuation of liquids and, in their production, improve the reasonable use of natural resources by 30%.
Teka offers different ranges of Radio 15 sinks such as Forlinea, Top line, Be line and its Zenit star range with multiple uses and possibilities.
The Zenit R15 range is a new concept of sink accompanied by numerous accessories that allow to offer practical and intelligent solutions: a real work center with accessories such as the table with strainer to manipulate food at different levels, cut, prepare or wash. In addition, it has soundproofing elements that absorb water noise or anti-overflow that eliminate excess water from the sink.
One of the complements offered are ceramic dishes suitable for oven and microwave, which facilitate serving food in it bamboo tray and preserve them with its high quality silicone caps.
The Zenit R15 bowls sinks feature 20 cm depth. Thanks to the AISI 304 stainless steel, the Zenit R15 becomes the best in its class. The external dimensions are 52 cm by 116 cm.
New sinks range Radio 15 are part of Teka's new Wish range, characterized by its ease of maintenance, efficiency and cleanliness.