Snow adds color to Christmas. Decorate our Christmas scenes, the tree branches and create unique landscapes to enjoy these days. But the beauty of those landscapes is not limited to the outer mountains, you can also bake mountains of cookies at home and make sweet icing sugar flakes fall on them. Yes, it's that simple.
Icing sugar can be easily bought in the supermarket, and if we did that, our post would end here. But the magic of Christmas invites you to make plans with family, friends or even just for you, always enjoying a unique little time in the kitchen. That is why today we are not only going to give you advice for having a snowfall over your Christmas recipes, but we are going to reveal how to do this.
How to make snow icing?
As you may have guessed, it is a very simple process:
🥣 Mix this proportion in a beaker: 97 g of powdered sugar + 3 g of starch (cornstarch). If you want to make more quantity, go increasing the quantity in the same proportion.
🌪 Grind the mixture as finely as you can. You can sift it a couple of times to ensure its texture.
🧂 Place in a glass jar and store.
And now, let it snow!
Christmas recipes with icing sugar
Homemade Christmas cocoa cookies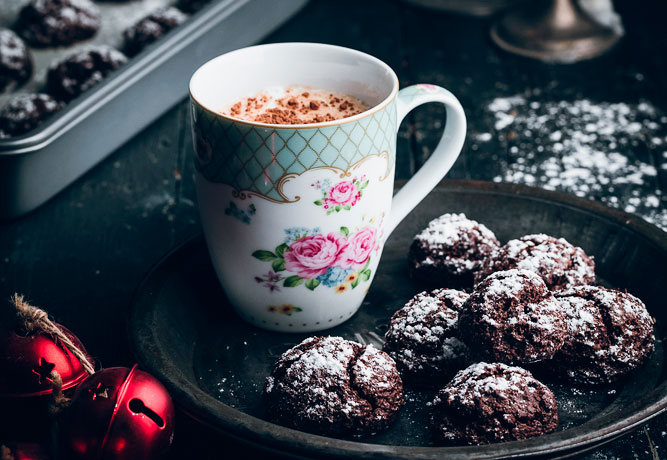 Ingredients:
85g Pure cocoa

250g Flour

2 Teaspoons baking powder

1/2 Teaspoon salt

100g Butter at room temperature

250g Sugar

2 Teaspoons of vanilla extract

4 Large eggs

Icing sugar
Directions:
Mix in a bowl all the dry ingredients and stir.

In another bowl, mix butter, vanilla and add eggs one by one. 

Blend both bowls ingredients and knead the mixture until every ingredient is well-combined. 

Chill in the fridge for at least one hour. Better if you can wait all night until the next morning.

Pre-heat oven at 200ºC and shape small balls and place them in an oven tray with parchment paper. Leave enough space between each ball. 

Sprinkle icing sugar and bake for 10 minutes.

Remove from the oven and place the cookies in a cooling rack.
Chocolate and Raspberry Mini Bundt Cake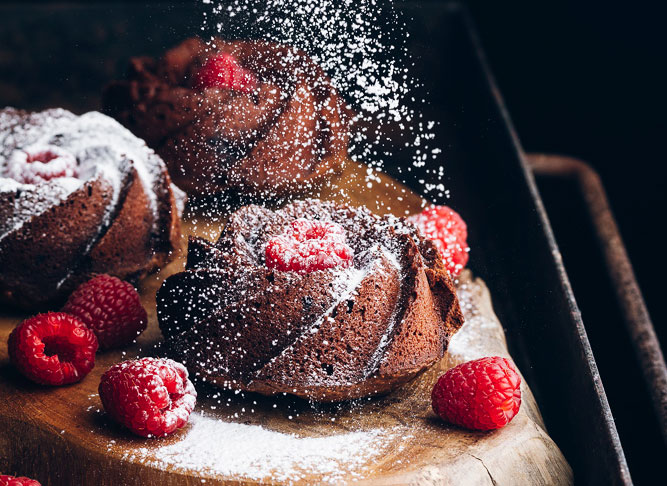 Ingredients:
200g dark chocolate
80g unsalted butter
120g of sugar
90ml cream (35% fat)
100g flour
1 teaspoon of yeast
150g raspberries
3 eggs
Directions:
Preheat the oven to 200ºC.
Break up the chocolate, tip it into a glass bowl with the chopped butter, and then place the bowl above a pan of hot water on the stove. Stir until it all melts.
Add the cream and mix.
Beat the eggs together with the sugar using an electric mixer until the mixture increases in volume.
Add the chocolate, and stir until mixed.
Sift the flour and yeast over the mixture, mixing until you have a light and smooth dough.
Finally, drop in the raspberries and try to distribute them uniformly.
Grease the mould and fill with the mixture.
Bake at 200ºC for 25-30 minutes – the time may vary, so before taking it out, prick with a knife to check that it's ready. This is a moist cake, so don't let it dry out too much.
Remove from the oven, let it cool, and take it out of the mould.
Decorate with icing sugar and a raspberry on top.
Bread Pudding with Red Berries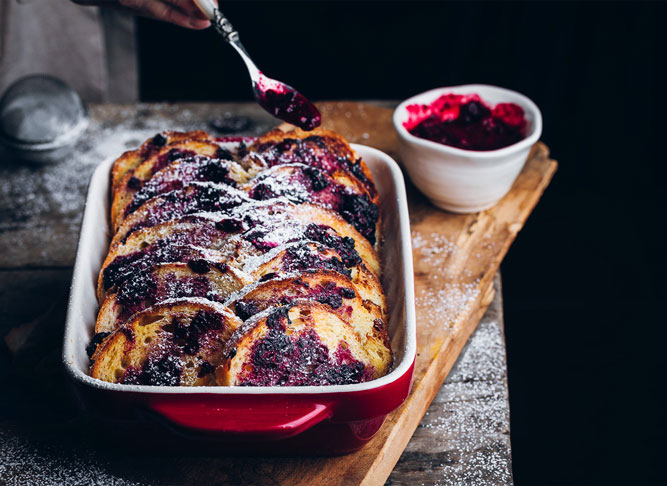 Ingredients:
400g hardened bread
80g melted butter
4 eggs
400ml milk
50g sugar
Lemon zest
1 tsp of cinnamon
120g fresh or frozen red berries
Directions:
Preheat the oven at 180º
Cut the bread into thin slices and moisten them with the melted butter.
In a bowl mix the milk, sugar, beaten eggs, cinnamon and the lemon zest.
Place the bread on a tray and pour the milk mixture on top so that all the slices are moistened. Let it rest for a few minutes.
Put the red berries in a saucepan and heat until you get a sauce. If you are using frozen berries, they will release a lot of water.
Boil over low heat until reduced.
Place the bread in a tidy manner on the presentation tray and water with the milk and half the sauce of the red berries.
Bake for 30 minutes, approximately. Take it out from the oven, let it cool and decorate with the rest of the red fruit sauce and icing sugar.