trigger-steakmaster-1-1
trigger-steakmaster-1-1-1
trigger-steakmaster-1-1-2
trigger-steakmaster-1-1-3
trigger-steakmaster-1-1-4
trigger-steakmaster-1-2
trigger-steakmaster-1-2-1
trigger-steakmaster-1-2-2
trigger-steakmaster-1-2-3
trigger-steakmaster-1-2-4
trigger-steakmaster-1-3
trigger-steakmaster-1-3-1
trigger-steakmaster-1-3-2
trigger-steakmaster-1-3-3
trigger-steakmaster-1-3-4
trigger-steakmaster-3-1
trigger-steakmaster-3-1-1
trigger-steakmaster-3-1-2
trigger-steakmaster-3-1-3
trigger-steakmaster-3-1-4
trigger-steakmaster-3-2
trigger-steakmaster-3-2-1
trigger-steakmaster-3-2-2
trigger-steakmaster-3-2-3
trigger-steakmaster-3-2-4
trigger-steakmaster-3-3
trigger-steakmaster-3-3-1
trigger-steakmaster-3-3-2
trigger-steakmaster-3-3-3
trigger-steakmaster-3-3-4
trigger-steakmaster-6-1
trigger-steakmaster-6-1-1
trigger-steakmaster-6-1-2
trigger-steakmaster-6-1-3
trigger-steakmaster-6-1-4
trigger-steakmaster-6-2
trigger-steakmaster-6-2-1
trigger-steakmaster-6-2-2
trigger-steakmaster-6-2-3
trigger-steakmaster-6-2-4
trigger-steakmaster-6-3
trigger-steakmaster-6-3-1
trigger-steakmaster-6-3-2
trigger-steakmaster-6-3-3
trigger-steakmaster-6-3-4
trigger-steakmaster-6-4
trigger-steakmaster-6-4-1
trigger-steakmaster-6-4-2
trigger-steakmaster-6-4-3
trigger-steakmaster-6-4-4
Restaurant Quality Steak.
At home.
SteakMaster is the first and only oven that lets you enjoy the perfect t-bone steak with restaurant quality in your home.
Watch the video
How can SteakMaster help you cook the perfect steak?
It takes practice and experience
Getting the perfect meat doneness is an art. For this we must take into account variables such as temperature, the cut of the meat, and its thickness. The most common cooking points are: rare, medium, and well done.
RARE
MEDIUM
WELL DONE
Practice and experience in the kitchen
SteakMaster incorporates up to 20 varieties of automatic programmes, and a complete guide for different types of meat, cuts, and finishes that will be in charge of selecting the perfect cooking time for each one. You just have to worry about choosing your favourite meat. Whichever your preferred meat and finish, the SteakMaster does it for you.
Watch the video
But if you want to give it a special touch, it has a manual mode where you can vary the parameters to your liking. This setting is designed for those who have experience in cooking meat and oven control.
Temper the meat
To temper the meat, it will no longer be necessary for you to cook it in advance: SteakMaster includes a program to temper the meat at 40°C for 20 minutes.
This allows the meat to maintain its vitamins and minerals, as well as its proteins. Taste and smells will be spectacular when you are cooking. Not only will the appearance be ideal, but the taste of your T-bone steak will be much more juicy as it won't lose all the water it contains. It will also have a smoother texture, which helps digestion and consumption.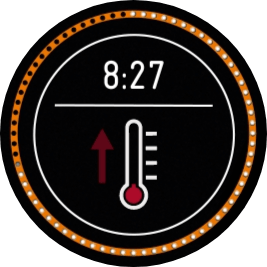 High temperatures
Combining temperature and time, we can gain a caramelisation effect on the meat. This process is achieved by cooking at very high temperatures in order to seal it, so that it is crispy on the outside while very juicy on the inside.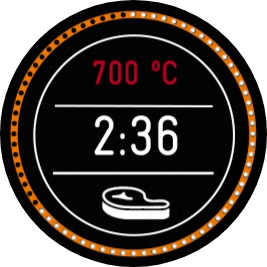 SteakGrill
The SteakMaster oven incorporates an exclusive grill that can reach up to 700ºC inside.
700º C
Cast iron grill
Cast iron grill with two placement options for different thicknesses of meat. This product has been tested by a renowned chef with a Michelin star from the Etxanobe Restaurant in Bilbao. The chef has been in charge of validating all the operating programmes of the SteakMaster, giving you extra confidence about the quality of the product and its strong potential in the meat kitchen.
What if I don't want to cook steak?
SteakMaster has exclusive recipes for cooking food such as tuna tataki, salmon, or duck magret. But it also has all the features of a state-of-the-art pyrolytic and multifunctional oven that includes 20 international recipes programmed with the correct temperatures and time guides to make delicious dishes.
TUNA TATAKI
SALMON
DUCK MAGRET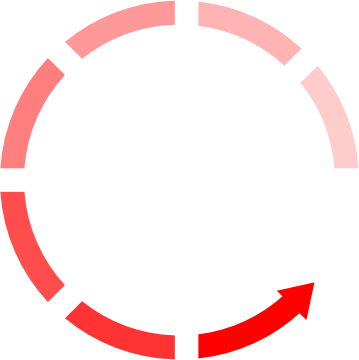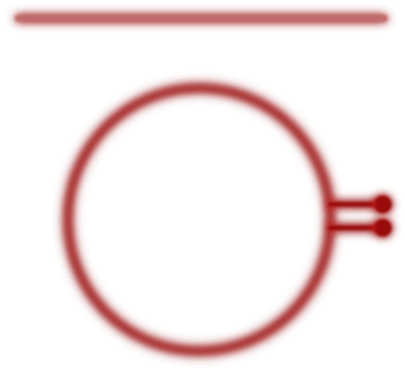 SurroundTemp
Imagine the smell of freshly baked cookies, each of them crispy and cooked to perfection. SteakMaster is a multifunctional oven that guarantees a uniform distribution of heat, even cooking at different levels, thanks to the extra SurroundTemp resistance.
DualClean cleaning system
SteakMaster incorporates two cleaning systems: Pyrolysis and steam cleaning. For everyday, the HydroClean system is responsible for performing a quick and efficient clean with minimal consumption. But, if Sunday's roast was a success and you need a deeper clean, you can choose between three different pyrolysis levels, and reduce the dirt in your oven to ashes with a single button.
CoolTouch System,
cool oven door
The SteakMaster oven door has completely transparent glass with four thickness panels in order to keep the outside temperature to a minimum. You can touch the door without fear of burning yourself, even when the oven reaches its maximum temperature. The four glass doors are removable for easy cleaning.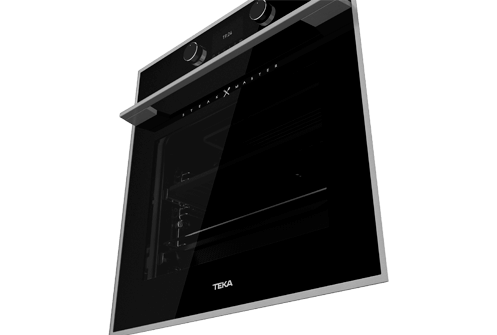 Full-Extension
telescopic rails
More resistant and easy to remove. Complete precision and total extraction with the telescopic guides and its clip-on system. 100% of the tray can be pulled out in order to have better access to your dishes.
SteakMaster includes 2 telescopic rails: 1 Full-Extension rail (100%) + 1 Plus-Extension rail.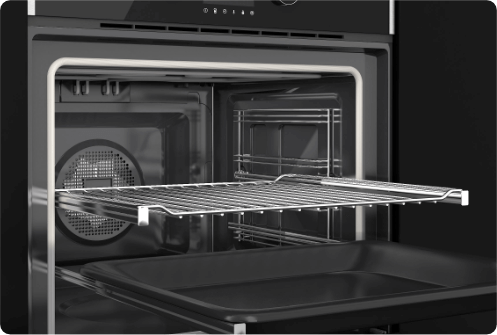 SoftClose system
Forget about slamming noises thanks to the soft closing and opening of the oven door. An extra for its duration and for safety (your fingers will thank you).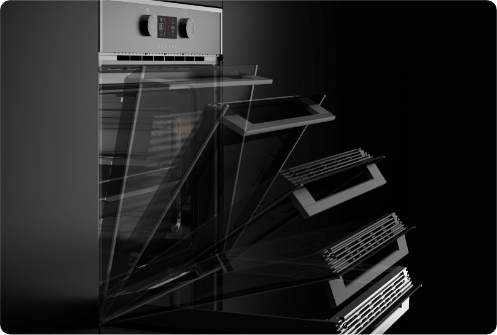 A energy classification
We take care of your recipes so that they are perfect, but we also want you to save energy and money. SteakMaster has an A+ energy rating, with which you'll save up to 20% more compared to class A.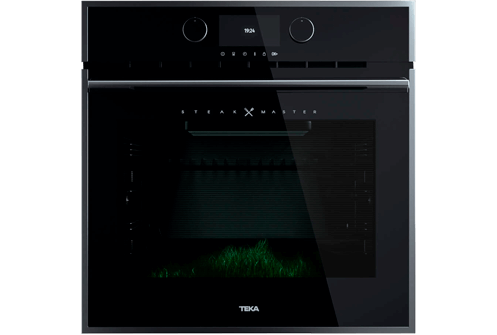 Compatible with Kit The SteamBox
The Kit The SteamBox converts the SteakMaster oven into a steam oven. Your food will keep all its nutrients and minerals without oil, preserving its flavour, texture, and aroma. Teka Kit The SteamBox includes a wide selection of accessories so you can cook juicy dishes on individual trays or large pieces of meat on the grill.