Pumpkins are the main protagonists of Halloween night. They make their way through the darkness to decorate and illuminate all the houses that terrifying night.
But do you know where this tradition comes from?
Origin of this Halloween tradition
We have to move to the distant Irish lands where Jack lived. A drunk who, according to legend, deceived the devil himself on Halloween night when he appeared to take his soul.
After escaping his sentence, Jack forced the devil to promise him to never ask for his soul again. When he died, he could not enter heaven because of his many sins or hell because of his pact with the devil, therefore, he was condemned to roam the world of the living with a hollow turnip and a burning coal inside to illuminate his walk through the darkness.
When this tradition arrived in America, they changed turnips for pumpkins as these are larger and easier to hollow out. It is because of this tradition that Halloween pumpkins are called Jack o lantern, representing the dark lamp of Jack.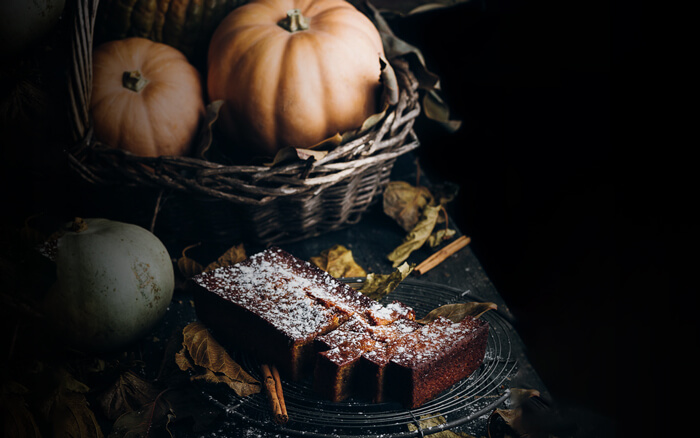 Halloween pumpkin recipes
This is why in October pumpkins invade our cuisine and recipes are transformed to include its delicious taste among its ingredients. But thanks to this tradition we have found tasty and easy recipes like these ones.
Pumpkin hummus
INGREDIENTS:
200 g Pumpkin
Fresh thyme
200 g Chickpeas
2 Garlic cloves
1 tablespoon Lemon juice
25 g Tahine
1 pinch Salt
1/2 teaspoon Paprika
2 tablespoons Oil are extra virgin olive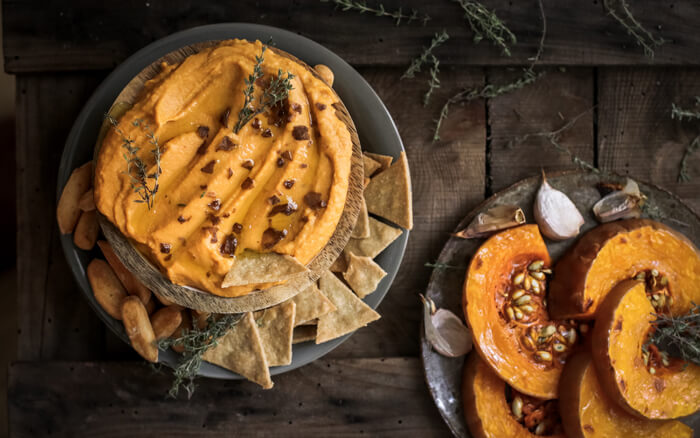 To prepare the hummus, first thing we do is to roast pumpkin. Cut the pumpkin into cubes add the thyme and leave it for about 30 minutes at 200°C. You can also roast the garlic at the same time, just remember to remove it before because since cooking time is lower.
Once the squash is tender, remove it from the oven and let it cool. Weight the indicated amount boiled and put into a blender. Add the remaining ingredients and grind until smooth texture. If we want a less dense texture, add a little water.
Serve and decorate the pumpkin hummus with more thyme, sesame seeds and olive oil, and ready to serve.
Pumpkin risotto
INGREDIENTS:
80 g Rice
70 g Pumpkin
25 g Butter
10 g Parmesan cheese
200 ml Broth
Sage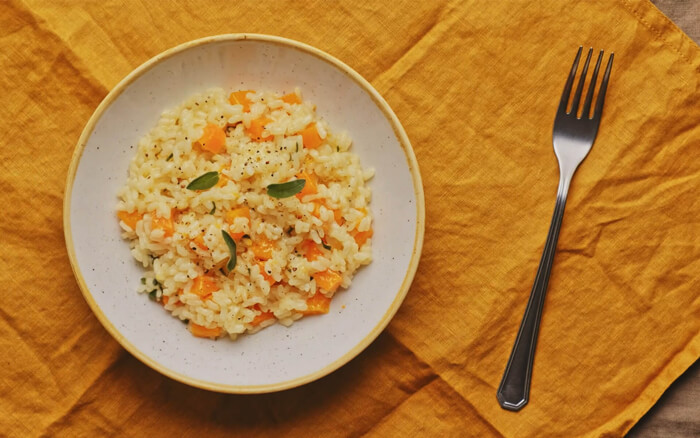 To prepare this tasty Risotto you will only need a microwave! First, put the rice and the broth in a microwaveable container. Cover with film and let it cook in the microwave at medium power for 8 minutes.
Take the bowl out of the microwave, stir, add the pumpkin and let it cook for another 7 minutes.
Finally add the butter, the parmesan chesee and the sage. Add salt and pepper and the Risotto is ready. Easy, right?