If we think in the room of our homes where we can find most of our memories, we definitely think in the kitchen. Since we were kids, the kitchen is the center of a home and the center of every family meeting. Such a special part of a home needs all our care and dedication because it will also reflect our personality. But, what kind of kitchen style is the right for you? Is it better a rustic type of kitchen or the straightforward style of an industrial design? Let's talk about some details to help you choose the best option for your home.
Classic kitchen style
Classic style is always a good choice, warm and timeless. Would you like a piece of Downtown abbey in your kitchen? Then, this is what you are looking for. Elegance and sophistication are part of this design. Use neutral and light colors, like grey or cream. This kind of style uses wood as the main ingredient, like oak, beech, or cherry. You can also choose appliances in white, there are many options available.
Look for laminate or lacquer furniture, with ornaments or tables and chairs with cabriole legs. Remember glass, porcelain, and metal can help you to create this charming style. Accessories like an old tap, a glass cabinet (something our mother loves), or a wall clock, in case you have enough room, can be the right touch you need. And always try to create harmony using similar colors, perfect for this type of design.
Industrial kitchen design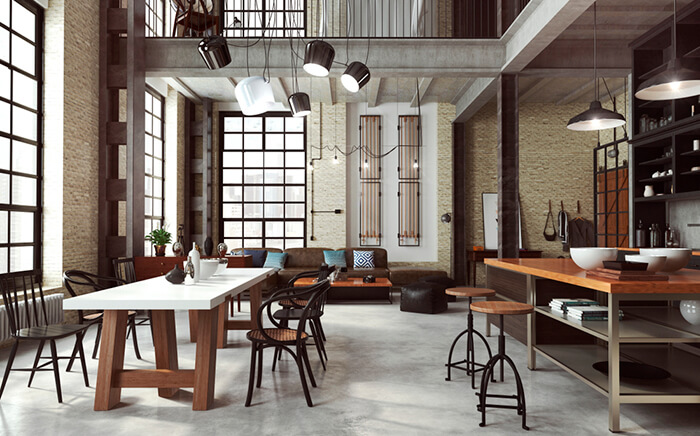 Industrial design is a simple yet personal choice for your kitchen. Materials for this kind of kitchen are brick, wood, concrete, glass, or iron.
Pipes, exposed beams, stainless steel furniture and appliances, and wood tables are just some of the standard components to create this industrial design, different and modern but warm. There are many different possibilities with colors, and you can add your personal touch in almost every corner. Grey and natural tones are the most common, but we can also use black to bring some personality to this style. Black appliances, built-in or not, will give a modern look and you will feel like in a NY loft.
If you live in a flat in the city, you will not probably have a huge kitchen, but you can look for an industrial style through furniture and some accessories for your daily life.
Rustic kitchen style
When we think about a rustic, farmhouse style kitchen, we often imagine a warm, cozy kitchen. This nature-inspired style works a lot with wood. Look for brown colors and vintage style wood. You can also paint your old furniture looking for that retro touch. Also, if you have the chance, don't forget exposed beams look great for our rustic design too, they are a distinctive architectural element.
Stone will work great in our rustic kitchen style. Stone or even brick walls combined with tiles or wood will create a countryside effect. And they will remind us of our long summer with our grandparents away from the city. Stainless steel appliances or even black works very well with this type of kitchens.
If you are looking for light or our kitchen is a bit small, we can choose lighter colors for the furniture and paint the walls with white or similar colors. For those who live in some warm countries, floor tiles are a good option for this style too.
Baroque kitchen style
A baroque style kitchen needs a lot of small and elegant details. We read about some ornaments and cabriole legs above, and this is the right style to use any kind of decorative element in every piece of furniture. But you can also use these decorative tips for walls, doors… accessories like metal knobs, for instance, will help us with this style. Flowers, natural or not, wallpaper or lamps, are just other ways to bring baroque style to your kitchen.
Once again grey and light tones for walls so we can save dark colors for small and decorative elements. A good hood will help us to keep the kitchen clean so we can use components like upholstery chair-seats, curtains, or even carpets.
The key for this style is to combine plain colors with curvy shapes, small details in every corner, from the ceiling to the floor, and decorative elements.  Stainless steel appliances work fine again with this type of kitchen, or you can also try to disguise your old appliances with paper, vinyl, or painting.
Boho kitchen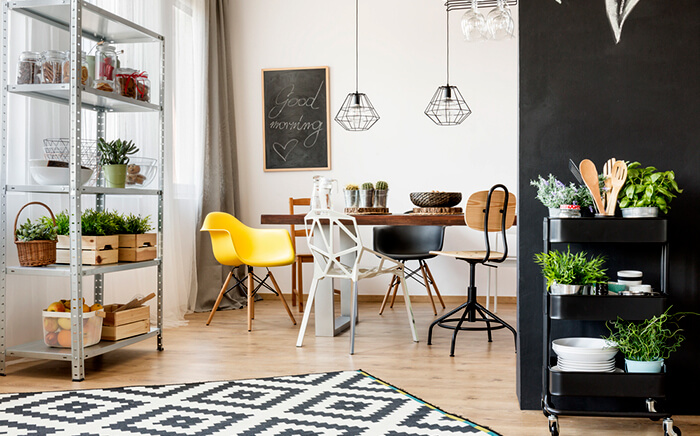 Boho, bohemian style, is full of life, fun, and happiness. This style plays with these hippie details, elegance, and sophistication too. If you want to paint your walls, choose a white and pastel palette, so you can focus on the rest of the decoration. Use tiles or some borders on the wall to turn your kitchen into a room in Montmartre.
Add bright colors to the furniture, cushions… place some natural plants, vases, flowers… and shelves, not only for kitchen tools but also for books.
You can not miss natural elements in a boho kitchen, like carpets or clothes from any part of the world. Every piece of ethnic or exotic decoration finds its place here.
Vintage kitchen style
Vintage kitchens are so charming you can bring this style to any home. We are looking for a vintage style to remind us of other decades. Combinations are endless: maybe you would like something retro, like a chess floor, or something more romantic and cozy.
Old furniture or restored furniture is the main piece in this kitchen style. An old hob or a refrigerator with a 50's look can completely turn an ordinary kitchen into a vintage one. Choose bright colors for the appliances or use vinyl to decorate them.
Pastel palette, flowers, and wood elements are perfect for this style. You can add some vintage touch stripping your old furniture and painting it again.
We have brought you some decoration ideas, and now it is your turn to plan your new, brand kitchen. Play with space and colors and don't be afraid to turn your home into something different and special.