The history of the refrigerator is a significant part of our history and evolution as well. Picture yourself carrying heavy ice blocks down the street to keep your ice-creams, lunch box, or that wine you love, very cold. It may sound like a situation from centuries ago but your grandparents or even some parents probably went through something similar to keep food fresh.
Now, refrigerators are common and the main piece of our kitchens where our stomach looks for help from time to time. But it was not like this a few years ago. Know the unbelievable evolution of the refrigerator from their very beginning, where they were wells with snow inside, to the latest models.
From caves to ice blocks
First food preservation techniques were born from Prehistory. The cold of the caves and air currents helped to store and keep food fresh. This technique evolved and the human being began to dig wells storing winter's ice and snow together with food.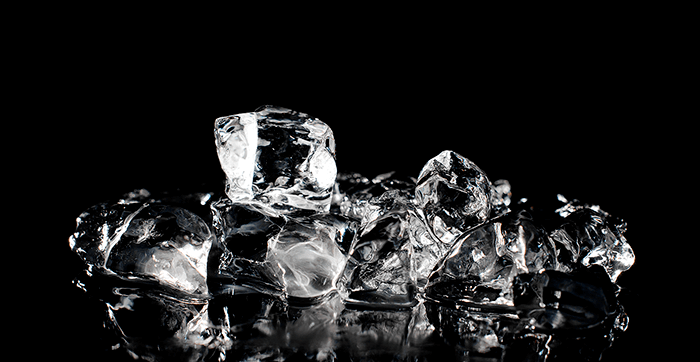 During the XV century, mankind built the first building to store and preserve food. Snow wells covered, pointed to the north, looking for the best conditions to maintain food at the lowest temperatures. New isolation techniques also arrived, like adding hay, ferns, and other kinds of plants.
Between the XVI and XVII centuries, people began to sell ice blocks oriented to preserve food. A popular and demanded commerce for families and whole communities.
1803: a star was born
In 1803, looking for a better place to store ice and food at home, the North-American Thomas Moore developed a refrigeration device. A rectangular tin box which contained ice and salt. The first refrigerators kept food in touch with ice. Later, they evolved until the ice was in a different compartment. The design also went further and designers added a tap to the original features so you could also obtain cold water.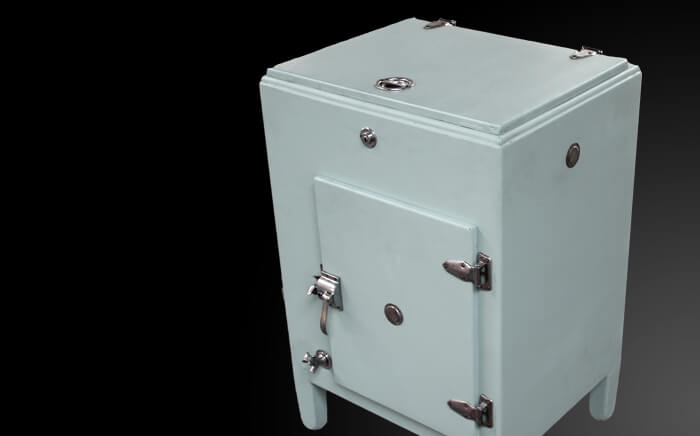 General Electric manufactured the first electric refrigerator in 1927. Refrigerators were wider, bigger and more advanced than ever. They had new accessories like drawers and shelves too. Ice compartments were innovative with new drainpipes for the defrost system. The design changed as well, and it was then when we found the first white enamel models in the history of the refrigerator.
In Spain, a sort of cabinet mix with refrigerators lived together with the electric ones until the 60s. Many countries could not afford a new fridge, not only because of the price of the appliance but also for the high electric consume.
New designs and innovation
Looking for a cheaper and safer product, as well as trying to find a useful appliance, technology kept up the good work and the first refrigerators with hermetic door were born. A magnetic system came later, with new designs, decorative elements, and more efficient refrigeration systems thanks to gas circuits.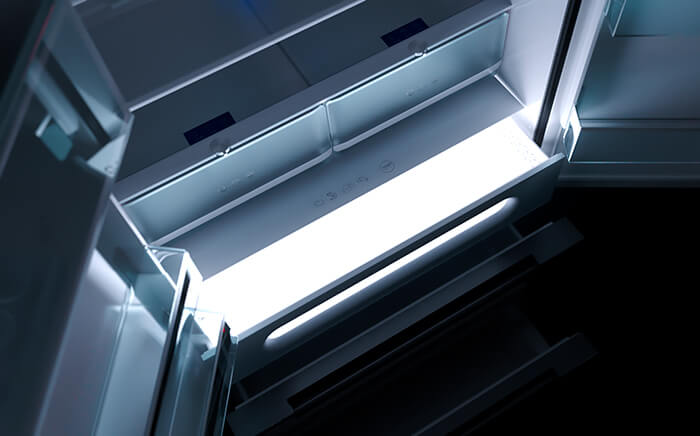 Refrigerators kept evolving until our days. Manufacturers work with the most innovative techniques to find better and more efficient solutions every day. With ice blocks and salt far left behind, fridges work now with better refrigeration systems, like LongLife NoFrost technology. LongLife NoFrost keeps your food fresh for longer thanks to the independent recirculation circuits. Most of them also have high-efficiency engines, quieter, and respectful with the environment. Some features to make a great difference with the first models and an open door to wellness.
There is no doubt these innovations have just begun and will go further to make refrigerators even more efficient in the near future.