Any kind of help is welcome when we talk about releasing daily pressure: watching an episode of your favorite TV series, going out for dinner with friends, sports… but maybe you did not know you can also fight stress with food.
Cooking is a helping hand
Working concentrated in something we like is a key to manage stress and a daily life full of tasks to be done. When you begin to cook, you can stop thinking about other obligations, the world stops, and you focus on a gratifying task, taking care of yourself too. Cooking keeps you in touch with feelings and emotions, that will make you happier discovering new flavors and dishes. And it will boost your creativity as well.
But if you also add some products to your recipes, you can also improve that relaxing feeling. These are the best choices if you want to fight stress with food.
Dark chocolate
Congratulations, you were right and science says "yes": chocolate helps you to relax and makes you happy. Dark chocolate is the healthiest one among dozens of different chocolates and the best one to battle stress. It helps you to regulate the hormones which control your mood. But here come the bad news: science has found out eating 40g of chocolate every day for two weeks is good for your mood, but it could be pretty dangerous for your diet. You can't have it all, we guess.
Salmon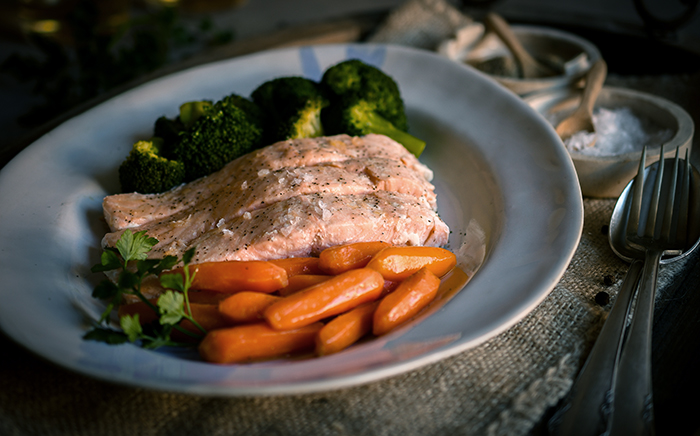 One of the fish with more Omega-3, a polyunsaturated fatty acid you can find in bluefish and some type of oils. An acid our bodies can not produce by themselves. Omega-3 helps to reduce cholesterol and triglycerides. But it also stops cortisol and adrenaline when they begin to rise in your blood due to stress. Cooking salmon is tasty and will help you to relax reducing anxiety.
Avocado
Avocado is one of the most delicious fruits you can use in your recipes. Avocados are rich in vitamin B, good to control stress. They are high in potassium and monounsaturated fat, good for high blood pressure. Avocado will not only help you with your mood but also with your digestive process. Thanks to glutathione, a powerful antioxidant, your intestine will not absorb bad fats. All these properties turn avocado in a super-food that will make your diet healthier and help you to be relaxed.
Blueberries
These small fruits have a lot of vitamin C, exactly what our cells need to fight against the damage caused by stress. They are helpful too to create dopamine and improve your mood. And they are good for your immune system, throwing away ketone bodies. Breakfast with yogurt, blueberries, and cereals is the best way to begin your day full of energy.
Spinach
Other food plenty of properties to help us feel and be better. Spinach is very rich in Omega-3, fiber, and antioxidants but the reason they are so good to battle stress is they are rich in magnesium. A bunch of this vegetable has 40% of the magnesium you need every day, and this mineral helps us to control cortisol and feel better.
Asparagus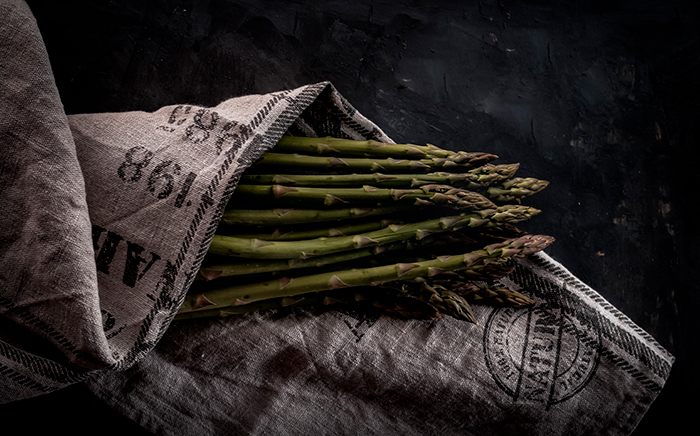 Keeping a high folic acid level is essential for our daily mood. Asparagus is useful with this task, and you can include this food in many recipes. You can have them in salads, and garnish for fish or meat. Having asparagus in our kitchen will help us to feel better and face life with optimism and relaxed.
Tuna
Tuna, that trendy food. You can cook it in the oven, on the griddle, in stews, with pasta, sushi, salad and well, almost in any dish you can imagine. But not many people know tuna fish has a lot of tryptophan, essential to regulate aggressive behavior and, therefore, to control anxiety and stress to end our day more balanced.
Cook to be happier
Cooking helps us to make our home a special place to live and it is a shelter against the daily pressures. It is also an essential part of our lives to be happier and relaxed, to enjoy our lives as we deserve. Fight stress finding your inner balance… and with food as well!
Cooking can be a great hobby to help us to fight against depression, anxiety or stress, and a healthy shopping basket can bring you the best of the experience in the kitchen. Whenever you cook for your loved ones or just for yourself, a big banquet or just one dish, do it with love and passion. Feel what you cook, cook what you feel!