The new Twin Hob is an innovative mixed model of induction and gas that brings together the two cooking systems preferred by kitchen lovers.
The Hob IG 620 1G has the best of each cooking system. It combines the most vivid heat of the kitchen with gas and, the ease of cleaning of the induction. The ceramic glass hob provides these two systems of 60 cm.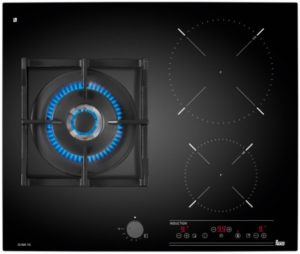 The Twin Hob has two cooking zones. In the induction zone, the new hob has a digital touch control panel, with maximum precision touch control in each of its functions and acoustic sensors. In the gas zone, it has a high-power double ring burner with 5.00 Kw. For cooking, butane, propane or natural gas can be used. Also, it has grills made with cast iron which makes cleaning comfortable and easy.
The Twin hob is equipped with a high level of security. It has a blocking function equipped with a device capable of switching the gas intake off should it detect there is no flame available.
Other features are frameless glass and thermocouple security integrated in the individual burner. In the induction area, the heating elements have a 145 mm hob and a 210 mm hob, have a maximum power function on all the inductive hob. Twin Hob has all the qualities and innovations that a kitchen needs.
Twin Hob belongs to the MASTER category of Teka, where the appliances are designed for those who require ease of handling and precision, and seek to go a step further in the kitchen in both design and functionalities.
Teka has recently launched its new Wish range, consisting of high precision products that share three characteristics: low-energy consumption, easy to use and clean.