A home is full of corners to enjoy the best moments of the day with your family, and the kitchen is the center of the family meetings around the world. That is one of the reasons why open-concept kitchens rise as a trend this year. The kitchen is the main room in a home, and an open-concept space keeps the essence of the kitchen but links it to the other house environments.
Kitchen decoration trends
Open-concept kitchens are a new way to understand the traditional home style. For a fluid and perfect furniture integration, you need to follow some basic guidelines with your kitchen:
Choose furniture that shows life, that is, use glass-door cabinets, cupboards, and shelves for storage and decoration.
Use light wood. You will enhance the light inside the room and sobriety, improving order feeling. Wood creates a sense of nature and that will help decoration to look fluid from the kitchen to the living room. It is also a durable and useful material, so you can not ask for more.
Colour will connect the rooms, but it will also add an elegant touch. Choose light colors for a kitchen layout that flows to the living or dining room. Remember you can use color contrast to define where the kitchen begins and ends.
Distribution of the open-concept spaces
Open-concept kitchens distribution will require, most of the time, remodel work.
"Breaking the fourth wall"
If you have an ordinary kitchen with four walls and you are looking for an open kitchen layout, you will need to remove at least one of the walls. That can also mean, whatever was in that wall, will be gone too, and that can be storage or decoration. If you build up your kitchen from zero, you will need to include this part in the design. But if you are not, you will need to look for a new place to relocate what was originally in the fourth wall.
Order, please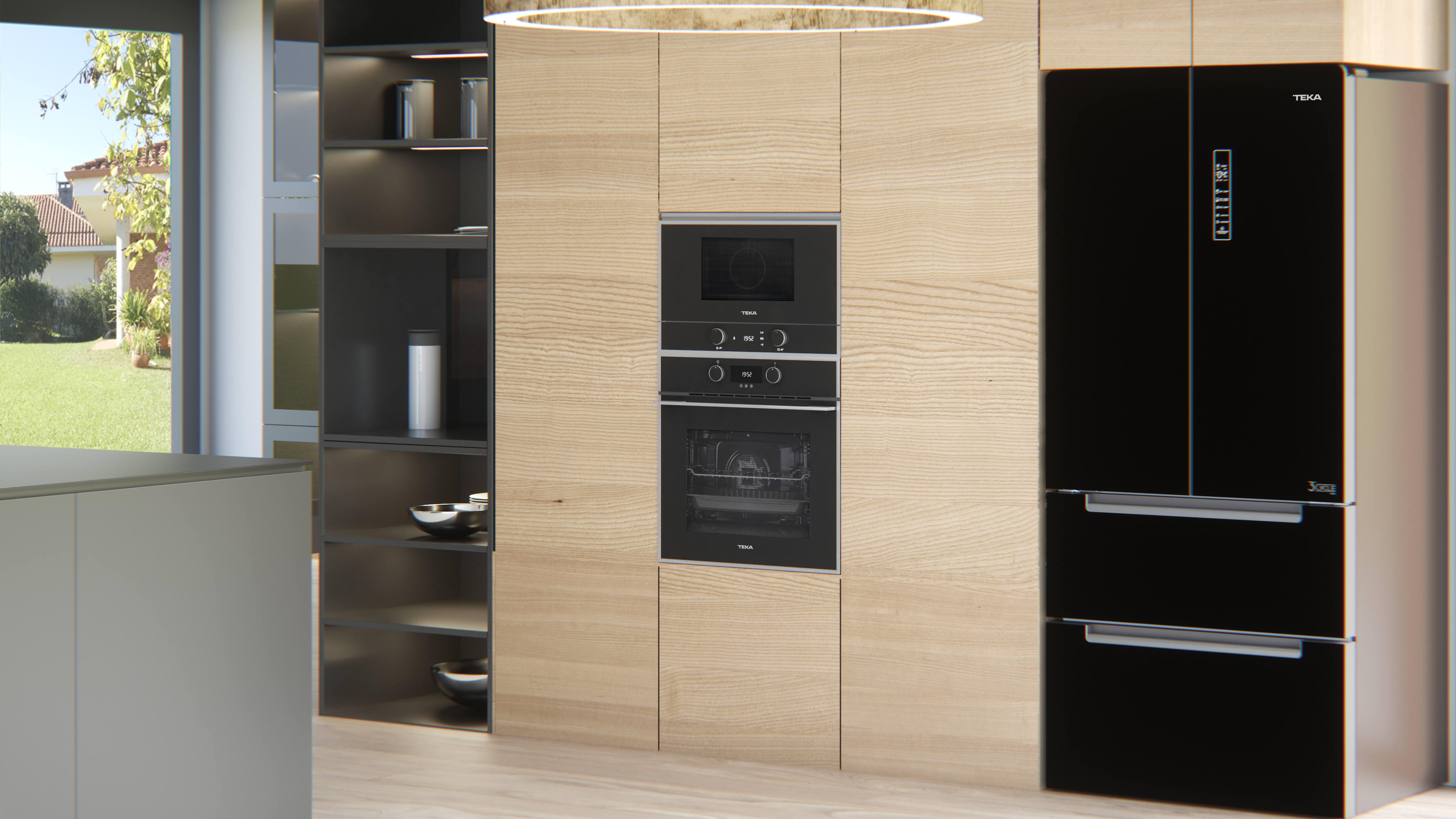 In every kitchen order is a must. Decoration and the whole atmosphere we are creating will fail if we don't keep order both in the kitchen and the living or dining room. Don't leave cookware on the countertop or around. Place every item in the cupboards or cabinets.
Try to create a clean, open space without obstacles between the kitchen and living/dining room so anybody can go from one room to another without tables, chairs or other objects on the way. Choose simple lines and neutral colors to create that flow, even on the floor. We want to keep every room's personality but enhance the open space aesthetically at the same time.
Furniture
One of the keys to a successful design and to improve order. Try to keep everything in the right place and use storage furniture, like cabinets, to make everything easier. You can also use shelves, cupboards with glass doors, and any kind of storage solution available that can also enhance the design.
Remember to use some pieces of similar decoration in both rooms. If your kitchen has an industrial design, place an industrial piece of art, a lamp, or similar in your living room also.
Lighting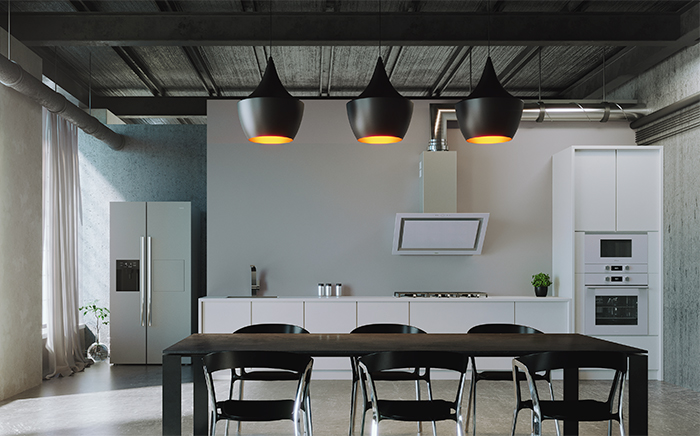 Lightning is helpful to divide spaces, keeping them connected at the same time. Pendant lamps are a new trend in 2019 for kitchens and will enhance lighting, helping you to create a relaxing atmosphere. A centerpiece lighting, like a lamp over the dining table, will define the area. If we choose neutral and bright colors, once again, it will be easier to connect rooms.
Problems? Solutions!
Noise and odors are commonly two of the main cons to choose open concept spaces at home. You don't have to worry about fish smelling in every single corner of your home when you cook salmon. There are several solutions available, and most of them come straight from your home appliances:
Choose an oven that reduces smoke and has a self-cleaning system.
A modern range hood will not only keep your home free of odors. New models are so silent you will not even notice it is working.
Refrigerators and dishwashers' noises are part of the past. New products are silent and you can even use them at night.
You can also use a glass door to divide the space every time you cook but without losing the visual connection between rooms. And if you are worried about cleaning such a glass door, choose a sliding door: easy and simple.
Open spaces at home were banned from our homes for years. But now, for space reasons or just to refresh our home design, open-concepts homes are back as one of the best solutions to decorate a house. If you have children, you can have a view of what they are up to in the living room, and you can also share a warm, common space every time family and friends come to dinner.