Happiness has a name and is Apple Crumble. Discover how to make this delicious dessert.
Ingredients (4 PAX)
For the crumble topping
120 g plain flour
20 g oat flakes
60 g brown sugar
60 g cold butter, cut into cubes
For the fruit compote
2 apples apple
30 g of butter
110 g blueberries
15 g sugar
A pinch of ground cinnamon
Method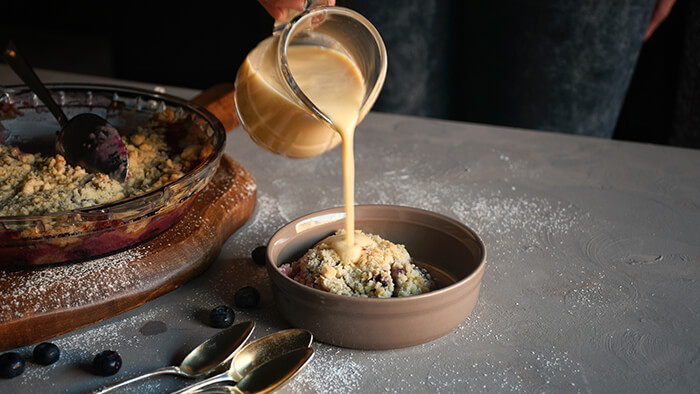 Heat oven to 190ºC. Then, tip the flour, oat flakes and sugar into a large bowl. Add the cold butter cubes and rub into the flour using your fingertips to make a light breadcrumb texture. Do not overwork it or the crumble will become heavy.
Sprinkle the mixture evenly over a baking sheet and bake for 10 minutes or until lightly coloured.
To make the fruit compote, peel, core and cut the apples in half and each half in slices.
Put the butter and the sugar in a saucepan and melt together over a medium heat. Cook for about 3 minutes until the mixture turns to a light caramel.
Stir in the apples and cook for 2 minutes. Add the blueberries and the cinnamon and cook for 2 minutes more.
Spoon the warm fruit into an ovenproof gratin dish, cover with the topping, then reheat in the oven for 15 minutes. Serve warm with a little bit of custard.