Teka's Wish range has been recognized again with the "Five Star 2018" award. The line has received the award in two different categories: hoods and induction hobs and vitroceramics.
The "Five Stars" awards are given each year in Portugal and have the peculiarity that there is no professional jury. The customers, around 1,200 people, were responsible for scoring different products or services based on five variables: satisfaction by trial, price, purchase or recommendation intention, confidence (brand trust ) and innovation.
The "Five Star" prizes count every year with the participation of a very high number of products, services and brands from different sectors and from all around the world. The Wish range of induction hobs and vitroceramics have obtained the highest rating on a scale of 10, specially standing out on the satisfactory by trial.
Teka 's range decorative hoods stands out for its better extraction capacity, they are extremely silent, the easy use of digital control panels and the lighting bar that provides greater brightness and maximum duration to low-consumption thanks to its ecological motors.
Regarding Teka's Wish hobs range, they are characterized by their ease of cleaning, simplicity of use and high level of security. In addition, they have a large number of direct access functions such as Melting, perfect for melting food; Keep Warm, to keep recipes hot until the moment of serving; Simmering, cook on low heat and iQuick Boiling, a fast boiling system.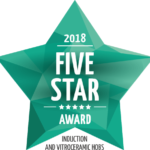 Teka's Wish range has high precision products that share three characteristics: low-consumption, easy to use and clean. 
Teka's hobs range has been divided into three categories depending on the lifestyle of each consumer: Easy, Total and Maestro.