If you are an Italian food lover then read on. Learn to cook this delicious recipe for spaghettis with mushrooms and garlic creamy sauce and enjoy its creamy flavor. This simple recipe is suitable beginners in the kitchen.
Ingredients (4 pax)
600 g mushrooms

8 cloves of garlic

200 ml single cream

100 ml whole milk

400 g of spaghetti

Extra virgin olive oil

Salt

Ground black pepper

Fresh parsley
Directions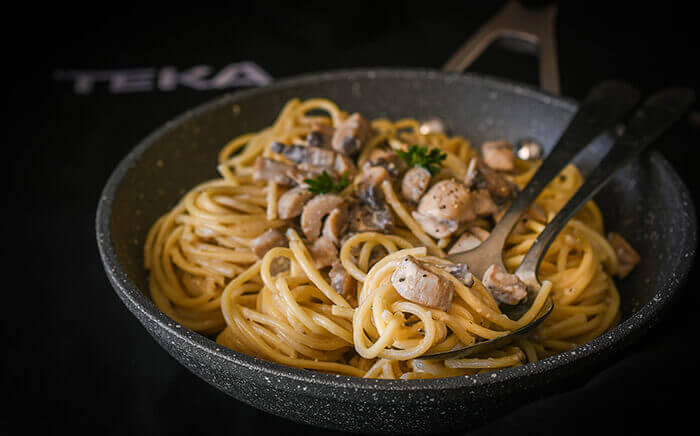 Clean the mushrooms to remove possible dirt. Remove the base of each mushroom and peel the tops. Chop all bases and tops in pieces of similar size.
Peel the garlic cloves and chop finely. Heat some extra virgin olive oil in a large pan and add the garlic. Stir a little (do not let it brown), add the mushrooms, season to taste and cook over medium heat for 10 minutes.
Add the single cream and the milk and cook on high for a couple of minutes for flavours to blend together. Keep aside.
Boil the spaghetti according to the manufacturer's instructions. Drain, keeping some cooking liquid. Add the spaghetti to the pan with the sauce, stir and adjust the thickness of the sauce with the reserved cooking water.
Serve immediately with fresh parsley leaves and enjoy!