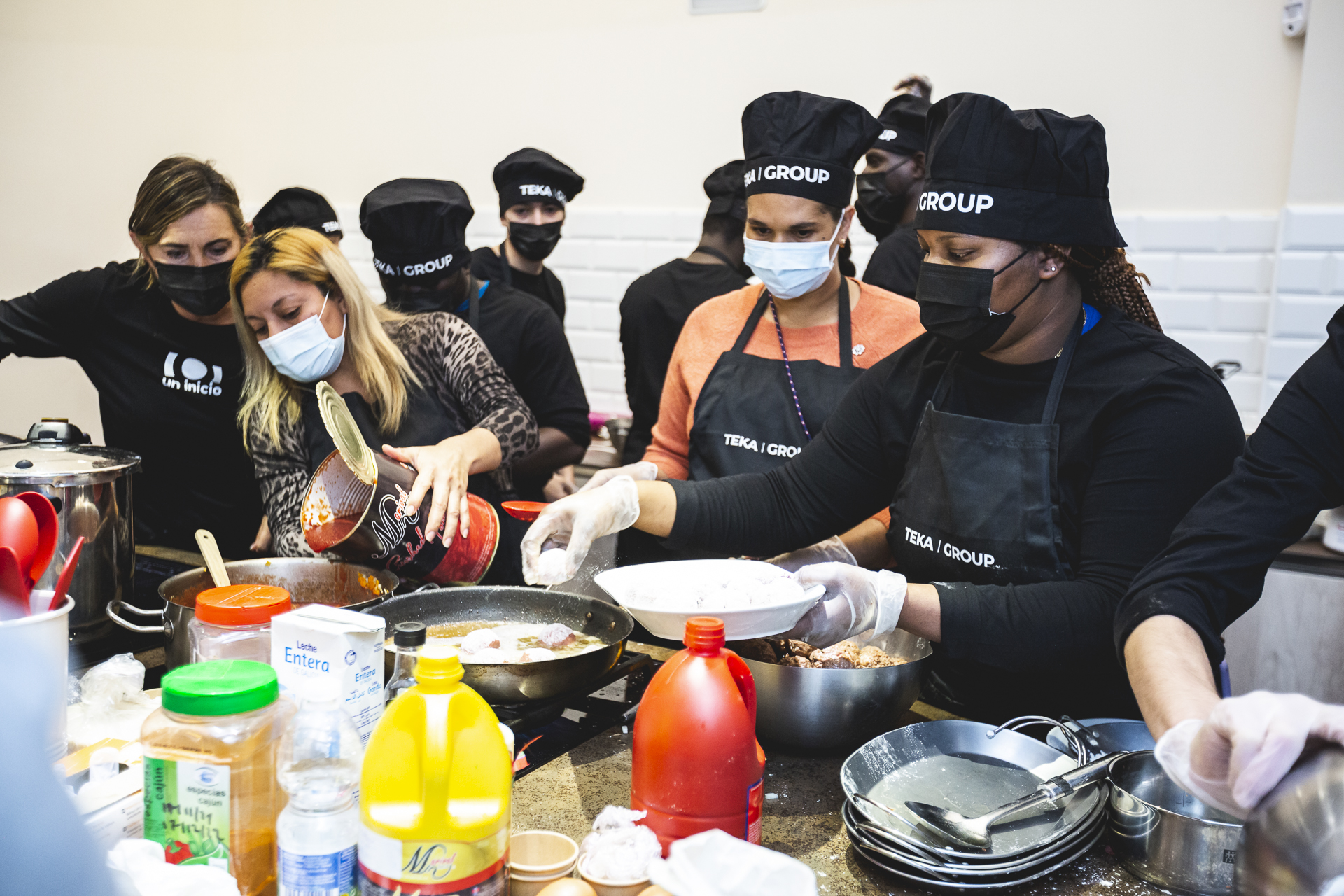 Teka Group continues to unconventionally care for people, successfully holding its second Christmas cooking course with Uninicio and Red Madre.
The joint endeavour with Uninicio and Red Madrid stems from Teka's greater purpose to "inspire meaningful moments" in this case with disadvantaged groups. In order to do this, Teka Group counts on the support of two entities which have a long trajectory in the third sector.
The first, Uninicio, an organisation whose mission is to train and help find employment for people facing situations of inequality through cooking, gastronomy and the production of food for catering and restaurants. And, the second, Red Madre Madrid, which provides support and advice to pregnant women facing difficult situations. Both charities have been collaborating with Teka since 2019 and, throughout December, they have both taken part in the second Christmas cooking course.
Once again, the culinary course consisted in a gastronomic experience taught by Uninicio volunteers and aimed at the women at the Red Madre Foundation. This initiative's success lies in the fact that the young people at Uninicio excel through the responsibility of sharing their culinary expertise with others. This challenge of training, guiding and teaching what they've already learnt to others is part of the mission which this training centre draws on in order to champion people who are displaced.
In turn, the mothers at Red Madre don't just receive a cooking course but a practical workshop given by a community which is also vulnerable. The pregnant women who turn to the foundation do so under complicated circumstances which make it difficult for them to see their pregnancies through. Red Madre provides them with the necessary support to be able to cope and get ahead.
At this pre-festive event, the participating women completed their "culinary training" with examples of a menu that they can cook both over the upcoming festive period and in their day-to-day lives at home.
This workshop sees certain realities shared which go far beyond the emotional guidance and support that both entities provide to their beneficiaries. It also sees meaningful moments of co-existence, learning and celebration. And, above all, it implements Teka's higher purpose: "We unconventionally care for people".
In 2022, Teka Group will continue to promote these types of cooking-based events and continue to collaborate with these two entities.