Teka Group,
German origin.
140 years of history. Thousands of solutions. Millions of moments.
Teka Group is a german multinational company, and one of the most important european manufacturers of stainless steel sinks, built-in kitchen appliances and bath solutions. 
Our group comprehends different worldwide leading brands, such as Teka, Küppersbusch, Intra, Mofém or Thor. With more than 140 years of history, Teka Group has become an international example of household appliances & sanitary manufacturing.
As of today, the group owns 15 factories and 4,000 workers around the world, with presence in more than 120 countries, in five continents.
Teka Group is part of the holding Heritage B.
Find below further information about other brand of the group.
Teka history began in 1924, when Karl Thielman founded an agricultural machinery company in Germany, and focused on this sector for the first years.
Shortly after, he began to work in stainless steel, an essential step forward in the history of the coporation.
In 1957, Helmut Klein joined the company as a partner. It was then when Teka was created as a trade mark, with the initials of both of their founders, Thielmann & Klein.
From then on, products under Teka name began to be sold. In the early days Teka just manufactured sinks. During the following years, the success of the products gave Teka the chance to expand their catalogue and to manufacture cookers, ovens and hoods.
In 1964, Teka set up in Spain and began a large international expansion in the following years, first in Europe and in the rest of the continents afterwards. All along this period the range of products grew and achieved worldwide regognition, thanks to their design and high-quality products for kitchens and bathrooms.
From the 70s, and for the next 40 years, Teka turned into one of the biggest sport sponsors worldwide, sponsoring Real Madrid football club and basketball club, owning a handball club, cyclist team, being part of the Paris-Dakar rally and even in the Winter Olympic Games.
In 2016, Teka launched Wish range in all its household appliances, the biggest investment in the company history, renewing all its factories and designs.
In 2018, Teka introduce its new position and new slogan, "Cook your way to life". The company has undertaken the largest advertising campaign ever done in Teka's history, with a short film directed by Goya awards nominee Marina Seresesky, and with music from Glenn James Hansard – Academy Award winner for best original song in a film. Teka cooperates with Fundación Alzheimer España (Spanish alzheimer's foundation) for this campaign. The video reached 11 million views in a month, becoming a record in the sector.
Nowadays, half of the Spanish homes own a Teka appliance, and the brand is present in more than 100 millions households worldwide.
One of the oldest brands in the group, Küppersbusch was born in 1875, founded by Friedrich Küppersbusch and focused on stoves.
In 1913, the company already had 12.000 workers and was a European leader manufacturing stoves and home ovens.
In 1935, Küppersbusch opened a second production factory in Austria, due to large demands all around Europe.
25 years later, Küppersbusch offered a wide range of products, manufacturing all kind of household appliances, from fridges to hoods.
In the 70s, it became one of the first companies in the world to manufacture built-in appliances.
In 1983, ökotherm®, an oven and stove catalytic converter using ecological and healthy technology, was launched. This unique product was only available at Küppersbusch.
In the 90s, Küppersbusch brand won a huge number of design and innovation awards thanks to its high-standard quality and products, such as Bundespreis, Red Dot Award, IF Design Award, Platinum Award for Design Excellence ADEX. More than 60 different products as ovens, hoods and hobs have received awards, not only in Germany but also all around the globe.
In 1999, Küppersbusch joined Teka Group, in a premium position of the German group brands. The fusion resulted in a group with more than 5.000 workers worldwide.
It was in 2015 when Küppersbusch celebrated its 150 years of history launching a wide range of brand new products and innovations to the market, at the international exhibition of Livingkitchen in Köln, Germany. In march of the same year, Küppersbusch was designated as a founder member of the German Design Council.
In September of 2016, German Design Council accepted Küppersbusch in the "Major German Brands" circle.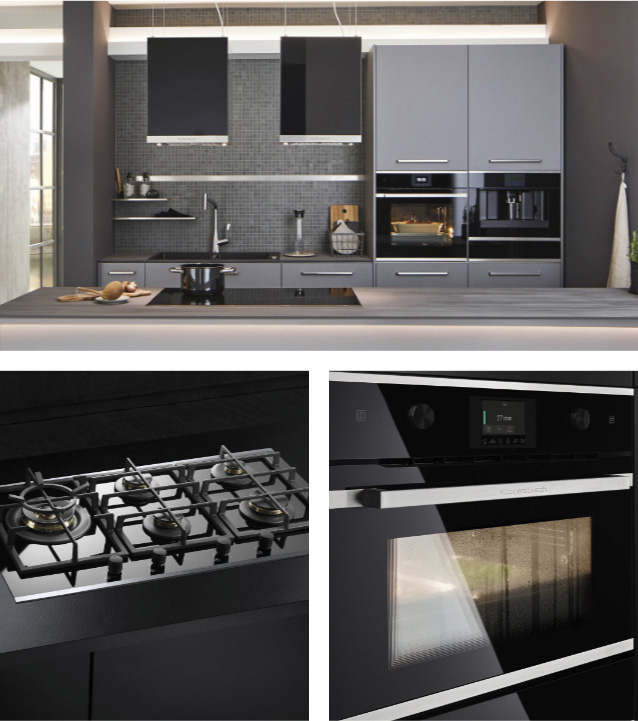 Intra is worlwide known for its high-standard design and stainless steel products. The knowledge needed to accomplish such high quality products is the result of decades of innovation.
With the know-how from Mölntorp in Sweden and Juvel in Denmark, Intra has experimented with a wide range of products to gather the knowledge and experience to become what it is today.
More than 140 years of entrepreneurship and innovation are within Intra Group products.

The company history began in 1871, when a blacksmith master and his son rented a farm in Möltntorp, Sweden.
In 1985 Mölntorps AB company is created. In the early years the brand manufactured tin containers for milk sector.
From 1920, production began to diversify and stainless steel sinks were commercialised.
In the 30s, World War II stopped expansion plans until the end of the conflict.
Diversification of the products based on war demand gave further knowledge.
In 1947, the company is renamed Byggeartikler A/S, and the diversification of the production continued, including aluminium boats, folding chairs and tables. The company expanded into the Norwegian market.
In 1976 Byggeartikler A/S became INTRA AS.
During those years, the company had more than 200 employees and manufactured 350.000 sinks per year.
In 1988, Intra AS bought in Swedish and Danish markets, joining Gustavsberg in Sweden and Juvel in Denmark.
During 1989, Intra AS moved its Norwegian production Factory from Trondheim to settle down in Malvik,
In 1994, Intra was established in Poland and Germany. The company continued its expansion and had more than 300 employees by then.
In 2007, Teka Group acquired Intra AS. At that moment, INTRA owned factories in Norway, Sweden and Denmark, and became a leader business with 40% of penetration quote in the Scandinavian market. Most of their exports led to Germany and USA in the next years.
In 2016, Intra Group acquired the sanitary business unit Elcee, continuing its expansion plan worldwide.