Which washer or dryer
should I buy?
When choosing a washing machine or a dryer, you can find yourself having many questions about capacity, washing machine programmes or installation type. In this buying guide, we will provide you with all the necessary information to help clear up any queries you may have and therefore allow you to choose your washing machine without worrying about getting it wrong.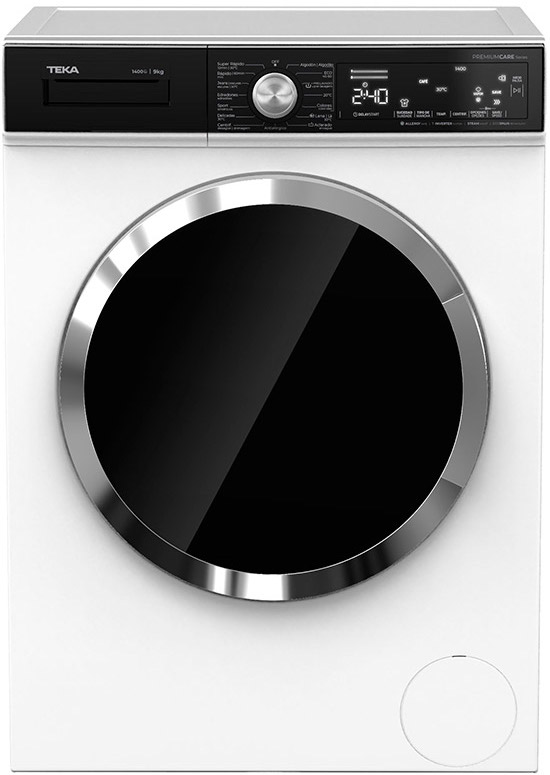 Programmes and features are designed with your comfort in mind. This way, you can decide which washing machine to buy based on its visual style and the space you have, choosing between free standing or built-in.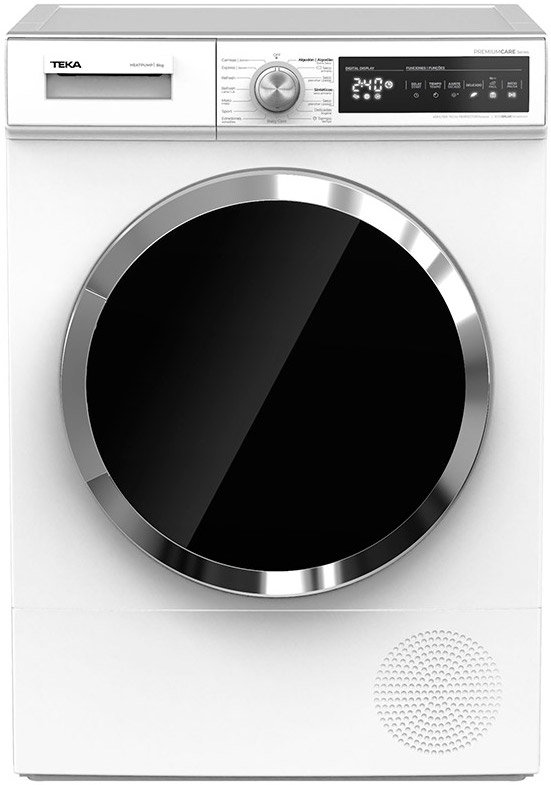 We have both condenser dryers, whereby clothes dry thanks to resistors heating the air, or heat pump dryers, that instead of using resistors, the air is heated via a heat pump.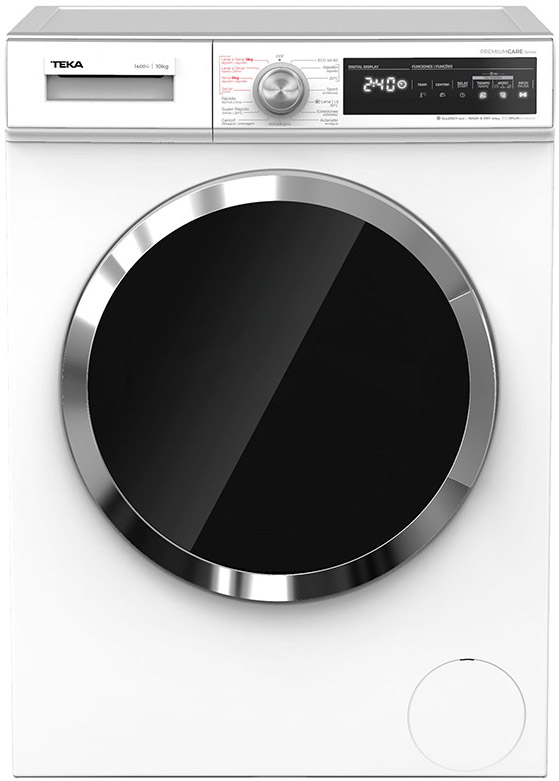 Two appliances occupying the space of just one. These help save on time and space while allowing you to use the washing and drying functions separately.
Size
and capacity
Washers have a standard 8 kg capacity, but if there are many people in your household, or you like to be able to wash duvets, towels, blankets, sheets… we recommend a 9 kg or 10 kg capacity, given that you'll have enough space to leave everything like brand new.
However, if you live alone or with your partner, and you don't need such a large drum size, we recommend machines with a 6 kg or 7 kg load capacity. What's more, they boast the same programmes as larger-capacity washing machines.
Dryers also have an 8 kg drum size, except for washer-dryers, which may have smaller drying capacity (5-6 kg).
The standard size for both washing machines and dryers is around 60 cm in width and 85 cm in height regardless of its capacity.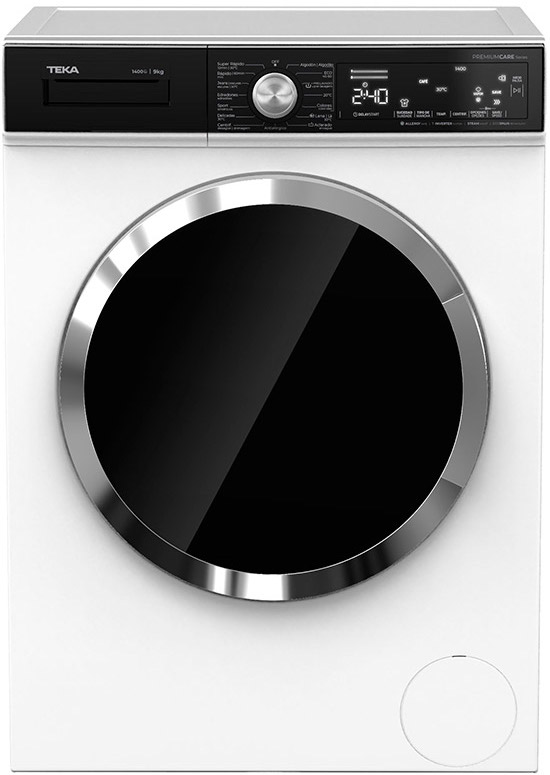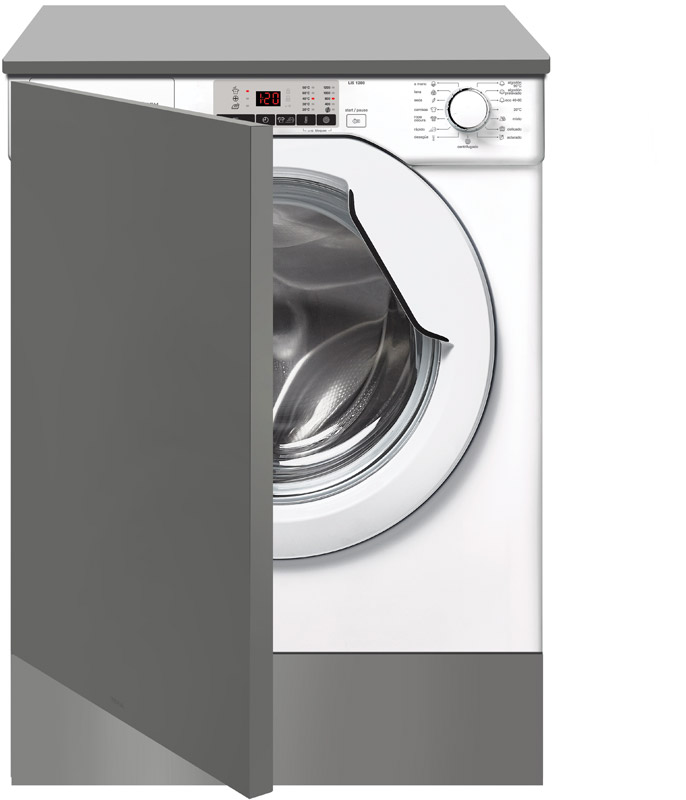 Built-in
These are aesthetically speaking the best option if you're looking for your appliance to be hidden, as they can be built into a unit.
Programmes
and functions
When choosing a programme either for your washing machine or your dryer, you have to consider the types of garments you usually wash.
You also have to think about the time you have for each load. Nowadays, there is the option to programme a wash so that it takes place while you're asleep or while you're at work, freeing up your time.
WASHERS
For washing wool, cotton, sportswear and darker/coloured clothes, there are special programmes.
For more delicate fabrics, you have 20ºC and 30ºC programmes for better protecting your garments.
Likewise, most of our washing machines boast pre-wash, extra rinse, extra speed wash and spin programs.
Regarding features, aside from the usual ones such as temperature selection, spin, extra rinse, anti-allergen, scheduling wash or pre-wash, our machines offer other special features.
Cotton
Eco 40-60º
Pre-wash
Delicates 30ºC
Sports/Synthetics
Mixed
Jeans/Dark
Quick 60 mins
Super quick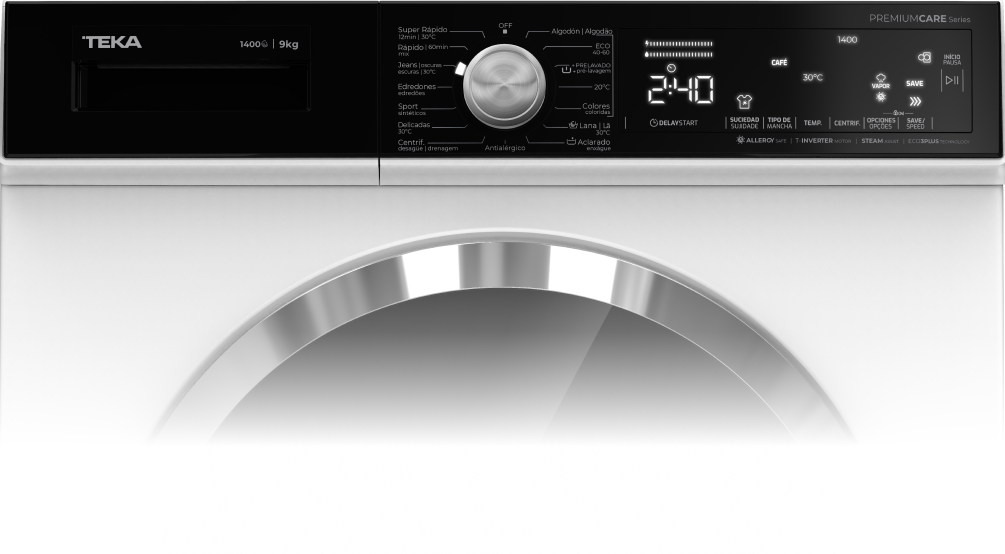 Delay Timer
Spin
Temperature
Speed Wash
Anti-allergen
Dirty
Stain type
Steam Assist
Eco Mode
Pre-wash
Extra rinse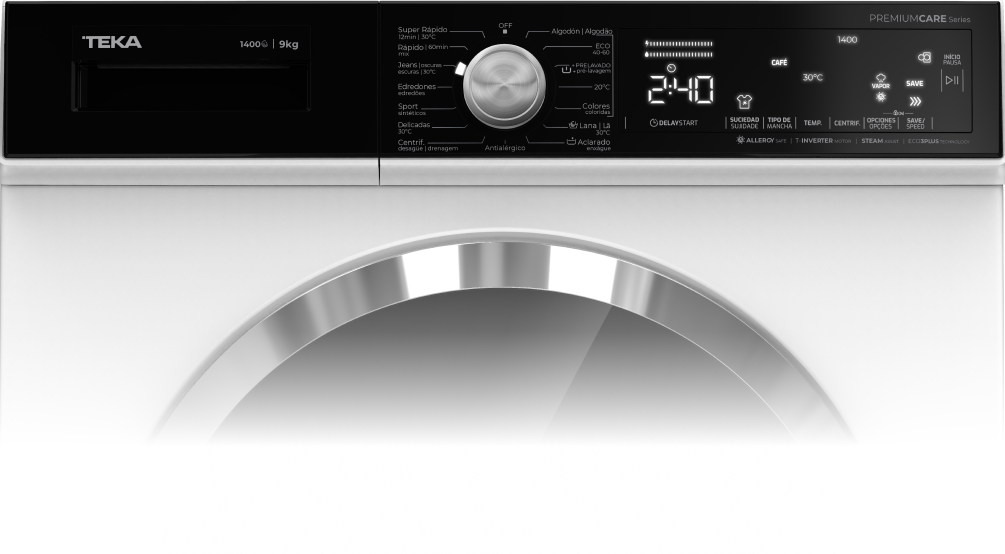 Programmes
Features
Cotton
Eco 40-60º
Pre-wash
20ºC
Delay Timer
Spin
Temperature
Colours
Wool
Rinse
Anti-allergen
Speed Wash
Anti-allerge
Dirty
Spin
Delicates 30ºC
Sports/Synthetics
Mixed
Stain type
Steam Assist
Eco Mode
Jeans/Dark
Quick 60 mins
Super quick
Pre-wash
Extra rinse
Super quick programme
A light wash for anyone short of time and always in a hurry. This programme lasts between 12 and 15 minutes.
Anti-allergen programme
Eliminate all types of allergens which may be lingering in the fabrics such as pollen, dust mites, mould, animal hairs, all thanks to rinsing with warm water. With the Allergy UK hallmark, we ensure the elimination of 99.9% of allergens, bacteria and pollen, the main causes of skin allergies.
Steam assistant feature
By using steam, you can eliminate viruses, germs and bacteria and leave your load extra airy and with less creases. You just have to enable it and it will be activated during the last 10 minutes of the wash cycle.
F
Select how dirty your garments are, and your washing machine will adapt to fully remove the dirt. There are three levels of dirt: light, heavy and extremely heavy.
Stain type feature
You will only need to choose what type of stain you need to remove from the ones available, and the washing machine will do the rest.
Speed wash feature
A feature which increases water pressure in order to reduce the washing time with the different programmes.
DRYERS
Dryers also feature specific programmes for different garments: cotton, delicates, synthetics, sportswear, refresh wool and duvets. This is in addition to the various needs: cupboard dry, iron dry, time control and 34-minute express dry.
If ironing causes you a headache, we recommend dryers with moisture and time control. This way, you will be able to leave your clothes a little damp and this will help when ironing garments
Cotton
Cupboard dry
Iron dry
Synthetics dry
Synthetics Iron Dry
Delicates
Refresh
34-minute express
20-minute shirts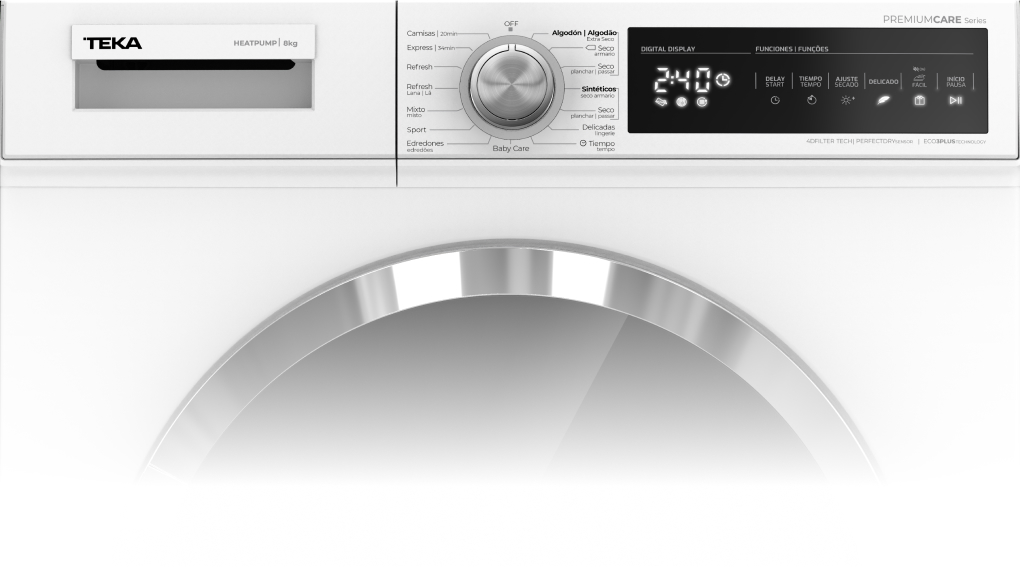 Delay start
Time
Drying settings
Delicate
Easy ironing
Start / Pause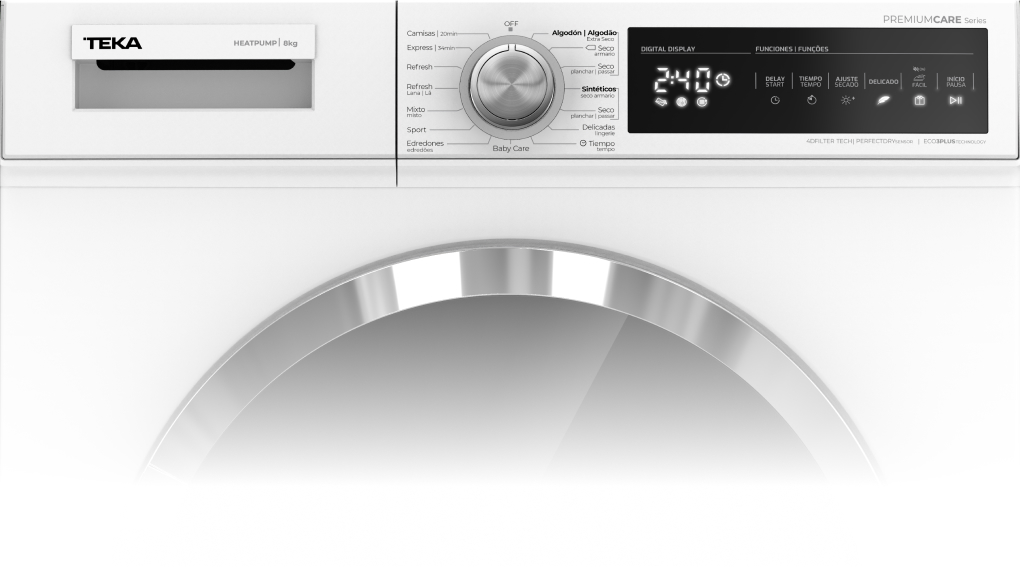 Programmes
Features
Cotton
Cupboard dry
Iron dry
Synthetics dry
Synthetics Iron Dry
Delay start
Time
Drying settings
Delicates
Time
Baby Care
Duvets
Sport
Delicate
Easy ironing
Start / Pause
Mixed
Wool refresh
Refresh
34-minute express
20-minute shirts
Programmes and features highlights
Baby Care programme
Specifically designed for drying the most delicate of garments, tending to your baby's clothes at a low temperature and leaving them soft and ready to wear.
Mixed programme
Many of our clothes are made from a mixture of fabrics. With this handy programme, you will be able to combine cotton garments with synthetics that don't run, ensuring quick and efficient drying.
Refresh programme
This programme provides airing for 10-120 minutes by selecting the timed drying option and using no hot air in order to eliminate bad odours. Also, available for wool, eliminating any excess water after washing.
Efficiency
How much energy your appliance consumes is also one of the aspects we must keep in mind when choosing an electrical appliance. At Teka, we've built in various systems which will afford you greater savings and sustainability thanks to the latest cutting-edge motors which cut water and energy consumption.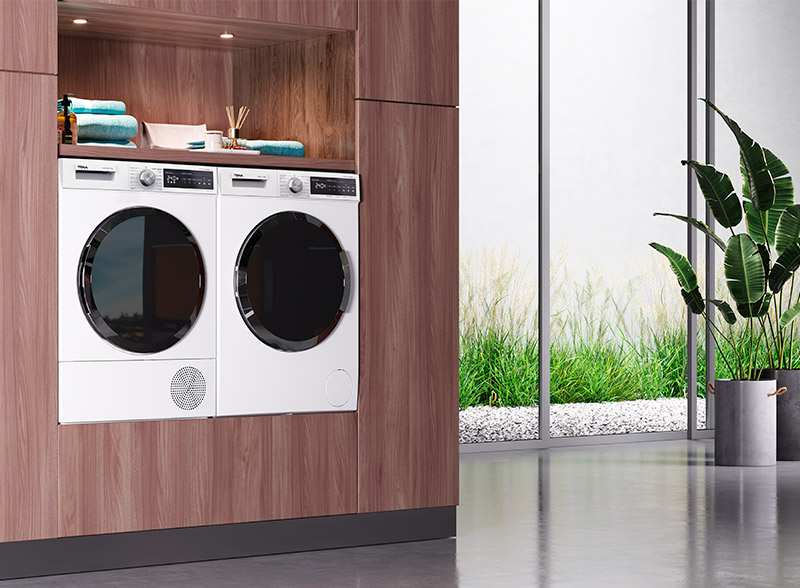 Eco 3 Plus
A system which affords extra savings and more sustainability thanks to cutting-edge motors which cut water and energy consumption.
Live Eco System
With the control bar situated on the display, you can monitor and visualise the water and energy consumption which your washing machine requires for each programme.
T-Inverter Motor
With the new T-Inverter motor, your washing machine or tumble dryer will enjoy maximum performance and yet you will barely even notice. It runs on a system of rotating magnets instead of traditional brushes, successfully reducing friction for the motor, which translates into less vibration and greater silence. What's more, you will be able to eliminate spinning during the wash cycle. This technology saves up to 60% energy, extends the lifespan of your appliance and cuts consumption.
SmartWash System
SmartWash is a smart system which calculates the weight of your load, adjusting the settings to cut consumption to a minimum.
SprayWash System
This enables an extra outlet of water with detergent in the top part of the washing machine, which improves wash performance in order to obtain a perfect recirculating system.
4D Filter
An easy-access, 4-layer filter designed to catch fluff and lint for ensuring a deep clean.
ExcellentDry Sensor
Care and finesses for your clothes. Thanks to temperature and moisture sensors, we can control temperature and ensure correct drying.
SoftCare Drum
The SoftCare drum is specifically designed to fight through water resistance – all thanks to its silicone blades and the dozens of tiny cubes it's made from. The outcome is softer clothes after washing, drying and spinning, guaranteeing maximum care for your clothes over time.