Although we miss going out to our favourite restaurants and pubs, these days can be a great opportunity to appreciate the work in the catering industry and also to get into the kitchen. The truth is we are not talking about nouvelle cuisine dishes, yes, we all know that. Sometimes we miss the so-called fast food at home but, what if we try to cook it ourselves?
The little ones in the house are faithful to many of the fast food proposals but they are certainly not the only ones. Think about that dish you love and the next day you regret eating it because it's probably on our list.
All-around pizza for everyone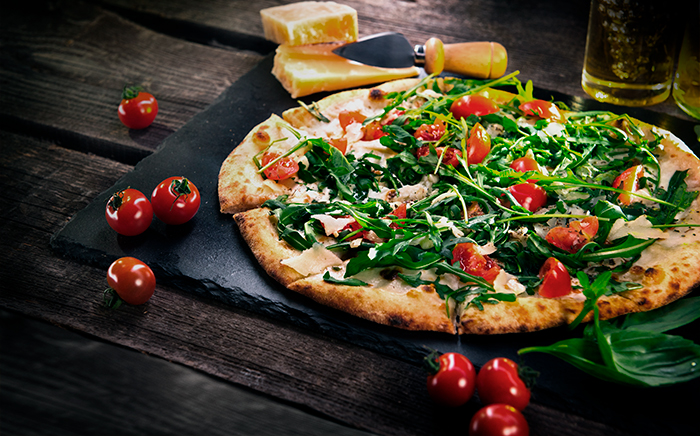 A delicious dish you can adapt to in your kitchen. Pizza has been marketed as fast food but the truth is that a Margherita pizza, in our eyes simple, can be a real delight when it is well made.
As you already know, the secret is in the dough, of course, and making it at home certainly makes a difference. You can cook it with the preparations they sell ready to add water and let the dough rest. And you can also make it from scratch:
170 grams of flour (wheat flour works perfectly)
115 ml of warm water
5 g fresh yeast
1 tablespoon of olive oil
½ teaspoon of salt
First, mix the yeast with the water. In a large bowl, make a volcano with the flour and add the water with the yeast and the rest of the ingredients, leaving the salt for the end. Knead until we have a compact, sticky dough. Leave it aside for about 20 minutes.
After the first part of our recipe, we have to work the dough a little more. Some people prefer to twist it, some choose to fold it over several times… practice will tell. Divide the dough into three parts. Let the dough rest for three hours at room temperature. Once the time has passed, stretch it with a rolling pin to give it the desired shape. Now you have your pizza dough.
 Tips
If after 3 hours the dough has not doubled in size, let it rest a bit more.
A piece of advice here: preheat the oven, cause we need it very hot (250º C) when cooking the pizza.
You can add mozzarella and tomato when you put it in the oven and, later, cook the rest of the ingredients.
If you have a pizza stone you can get as close as possible to making an authentic Italian pizza at home.
American style fried chicken
Breaded and fried food makes you fall in love, whether our circulatory system likes it or not. Although we recommend moderation you can give yourself a little whim and nothing is easier for it than an American-style fried chicken recipe.
Get yourself some clean wings, thighs, and chicken breasts to make this delicious fast food recipe at home. Mix in a bowl half a kilo of flour, a little salt, black and white pepper, oregano, garlic powder, and a little bit of hot or sweet paprika. Marinate the chicken in this mixture for at least one hour. On the other hand, mix a couple of beaten eggs with 1 glass of milk.  Heat oil in a frying pan to fry the marinated chicken, which will first go through the flour and then the egg. Fry and serve. You can accompany it with a salad to temper the guilt complex. We'll call this recipe sorry-not-sorry fried chicken.
Tips
Make it a game and add the spices you all like best.
You can also add to the mixture some breadcrumbs or crushed cornflakes, even roasted corn.
Make sure the oil is not too hot or the parts may become raw inside

There are always other very good ways to cook fried chicken beyond the skillet and also with a crispy result, like an oven with frying food function.
Hamburger menu with potato wedges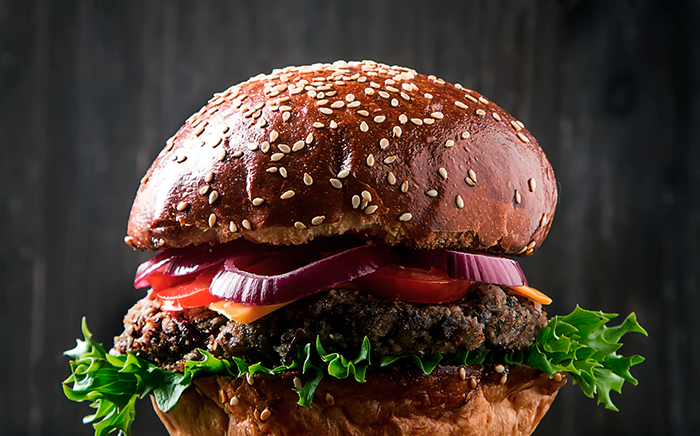 Burgers at home can be a real treat. You can choose the meat you like best or make it with vegetables. There is also the option of cooking it in the oven with optimal results. Making fast food at home doesn't mean it has to be fat.
But just as important are some good potatoes to go with it. Potato wedges have a different taste to classic French fries thanks to the combination of spices and the fact that they keep their skin. To make them you will need 5 or 6 medium potatoes, garlic powder, cornstarch, salt, and spices to choose from.
You need to wash the potatoes very, very well because they go in the oven with the skin on. We cut them in a wedge shape, put them in the microwave dish, and add a jet of oil on top. Spread with a brush to impregnate them well. Put film on top, make some holes in the surface, and put them in the microwave for about 5 minutes. Meanwhile, mix two tablespoons of cornstarch with spices and salt. Add the cornstarch to the potatoes and preheat the oven to 200º C. Place the potatoes on a tray lined with baking paper, add a little oil so that they don't stick, and… put them in the inside! After about 10 minutes, turn the potatoes over and bake them until they are golden brown.
Tips
If you like classic burger fries, try cutting your fries thinner than usual and using vegetable oil such as sunflower oil, so as not to detract from the flavour.
You can cook french fries in an oven and the result will be as good as fried but healthier.
You can also create a quick barbecue sauce by mixing ketchup, a teaspoon of wine vinegar, 1 teaspoon of honey, and some light mustard.
Nachos with cheese and guacamole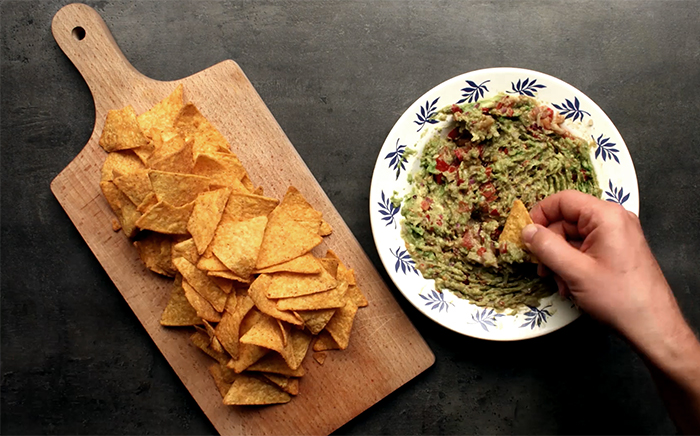 Nachos are great with just about any homemade salsa we have for dipping. But it's hard not to remember the taste of the nachos we tried in Mexican restaurants. We propose this adaptation to be made at home as fast food for the days of quarantine perfectly suitable for vegetarians.
For the guacamole, mix a mashed ripe avocado with a little onion and a finely chopped ripe tomato. Dress with a splash of lime juice and a little bit of coriander. Set aside.
To add the melted cheese to the nachos we propose two ways, one a little shorter than the other, although less orthodox in a culinary way of making them. In a small saucepan, put half a carton of cream and, when it is hot, add the cheese you want to use grated until it reduces. Once ready, pour it over the nachos and enjoy
The other option that we will never admit to saying in public, is that you put the nachos in a microwave oven dish, add grated cheese on top, and put them on full power for less than a minute. Make sure the cheese melts without getting out of hand. We didn't tell you about this shortcut.
Tips
You can use the cream and cheese to create a separate sauce to dip with vegetables as well.
If you have jalapeños and some other authentic spicy ingredient suitable for this side of the Atlantic, your nachos will be delicious. Just put it aside so that spice is an option and not an obligation.
You will probably come up with more fast food or take-out ideas that you miss these days. Add a little imagination to your dishes to create special dinners and fun moments, whether you're alone or with your family, to make your day even more special.