Building a kitchen from scratch or dealing with any remodelling is a bit of an adventure. But it is also an opportunity to get closer to the kitchen of your dreams. For reasons like design, efficiency, convenience, etc., we all have a wish list for one of the most important spaces in our daily life at home. But there is not always enough room for both our personality and our needs in the kitchen we usually have. Thanks to modular kitchens and modular home appliances, we are nearer to the kitchen we have already designed in our mind, that tailor-made space.
What is a modular kitchen?
When we talk about a modular kitchen, we talk about furniture, basically. Cabinets, worktops, and other surfaces are designed by units to fit into most of the spaces, but that does not mean they are made with poor materials or design. Modular kitchens are built with a variety of materials, and there are many types of cabinets available as well, enough to cover any need. Traditional models, bespoke kitchens, have a higher personalization level, of course, but they are also less affordable.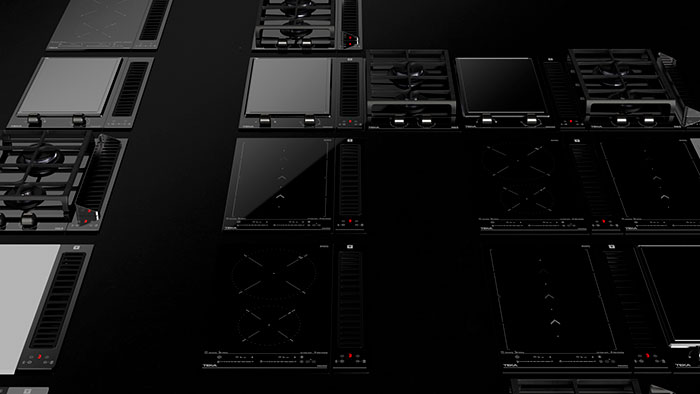 Your personal space
You need to stop and think about your everyday needs when creating a comfortable and functional kitchen. But, since you are going to remodel or even change your whole kitchen, and it will be with you for many years, you need to understand how important the design is too: you have to like what you see there. Remember, it is easy to get tired of bold colours more easily than of those more neutral. Don't forget that light plays a main role in your kitchen too. And keep an eye on building an ergonomic space. Pay attention to the distribution of the room, structural elements, and how big the kitchen is to use every single corner of it as you like.
Modular home appliances
Modular home appliances are useful for going a step beyond to create your own personal kitchen. And even though you plan just to change part of it, you will see a new world of possibilities for cooking that are hard to find with your old appliance, like using both gas and induction, or even adding a griddle to the hob. You will have the chance to explore new cooking options without reducing your working space.
Modular hobs: we did start the (good) fire
Modular hobs are one of the most innovative appliances that enable a higher grade of personalization. You can combine gas, induction, elements like teppanyaki or wok… and even place a hood where you most need it: right beside the cooking areas, on the same surface. Currently, modular hobs offer minimal and elegant designs, but flexible ones, ready to fit in any kitchen style. The finish of these sorts of hobs is similar to the models we can find in professional kitchens. They are very easy to install too, so you can enjoy your kitchen from the very first day.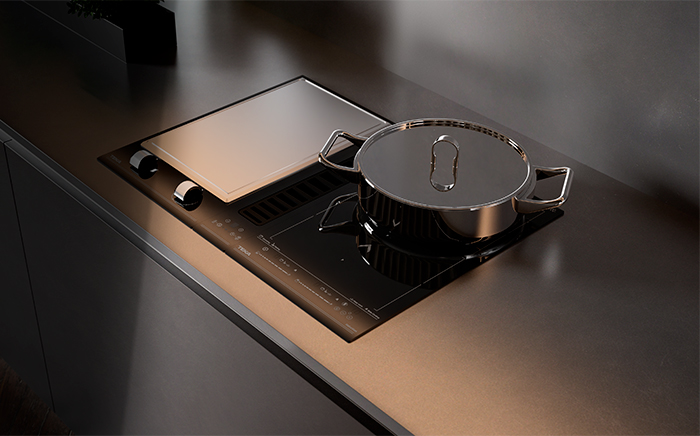 Choosing and combining the different cooking parts of the hob means you can have a bespoke kitchen, 100%, and that means you will design a unique space just for you.
Hoods in modular kitchens
Hoods are a must-have appliance in every kitchen now. Because of the numerous models available, installing them or not having enough space to place the cooker hood is no longer an issue. Hoods are so practical that they work not only during cooking time. They work as air filters for optimal air quality at home.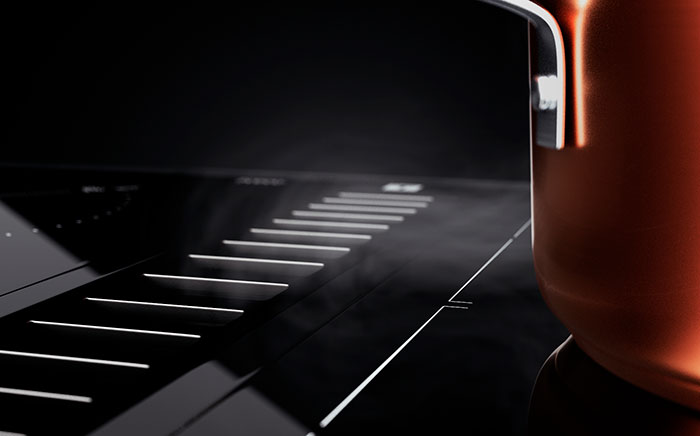 If you are looking for a discreet yet functional place for your hood to fit in with the rest of your kitchen's design, the modular hobs we mentioned above can be a perfect choice. These hobs have a powerful, quick, and efficient extraction system, and these models have new brushless motors which minimize noise. Forget about those hoods that used to sound like a Boeing 747 taking off.
Another useful choice may be a decorative hood. It can be fully integrated into the kitchen and have a stylish design to perform a double function: giving an extra design element to your kitchen with the rest of the appliances and furniture, plus being an air-purifier.
Built-in appliances
Another key tool to fit your design, whether it is modular or bespoke, are built-in appliances. There are many available, from coffee machines to dishwashers, creating a uniform design line just for you. Size is not a problem either: choose the most convenient for your home. You can have room enough in your kitchen for a large microwave and an oven, but maybe you just don't need that much. The appliances arranged in a column, as we can see often with microwaves and ovens, can bring new options too, including improving your backaches by placing them at a different height than usual.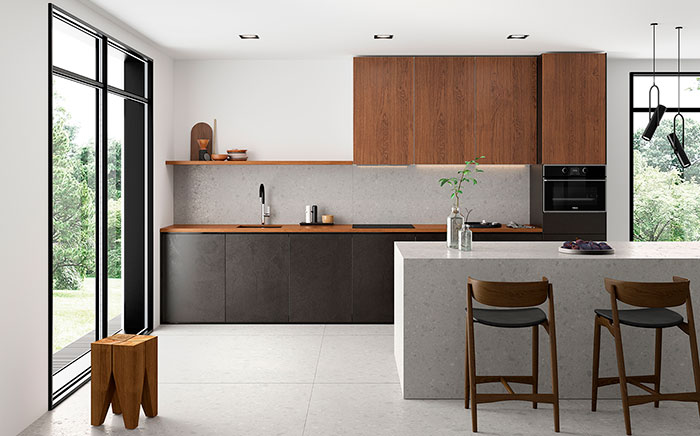 Plan and pay attention to your requirements to optimize your investment in a new kitchen. And we don't talk just about the money but also for your present and future savings. A new home appliance can be a long-term investment for its efficiency and durability because it is a significant saving for a long time.
Anyway, remember that there is no need to make all the changes in the kitchen at once. Modular kitchens units or appliances can be bought whenever you can or need them. It can be a nice long-distance race to build the space you always wanted, or the space you need now, for a home made for you.